Krakow Theatres
From the baroque sweep of its gables down to the gargoyles and Madonnas that peep out of the street corners, Cracow is a resoundingly theatrical city. And the Rynek, (the largest market square in Europe) is very much like a great open air stage in itself - a place to really savour the diversity of life. Many skillful performers (and others less abundantly so), make their living on the square, be they mime artists or buskers. This is no novelty, and street artists have entertained people here since medieval times. The historic and vibrant processions of the Roman Catholic Church, which sometimes take over whole swathes of the Old Town, are themselves exquisitely honed pieces of performance art. Theatre is in the blood!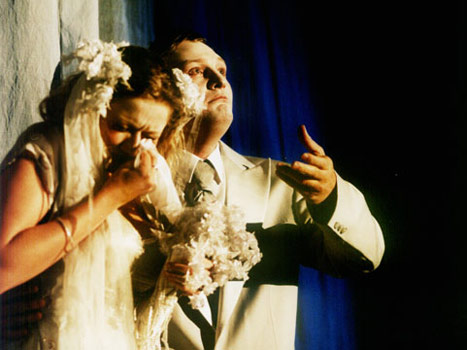 The Church provided some of the earliest patronage of theatrical performances in Krakow. However, it was during the Renaissance that things really moved up a gear. Then the Kings sponsored poets and dramatists, and the court at Wawel thronged with artists from across Europe. The move from Latin to the native tongue began at this time, and the first full play in Polish was written by the great Jan Kochanowski in 1578.
The oldest running theatre in Poland is Cracow's Stary Teatr (The Old Theatre) which was founded in 1798. It is a legendary institution, and this is where the grande dame of Polish theatre, Helena Modrzejewska (1840-1909), launched her career. She also laid the foundation stone for the splendid Juliusz Slowacki Theatre, which is certainly well worth visiting. Many of the great romantic dramas were premiered there, including Stanislas Wyspianski's The Wedding.
During the twentieth century, drama continued to blossom. It is estimated that there were some ten thousand small theatre groups in Poland during the 1930's. Two huge stars emerged during the postwar era, Tadeusz Kantor and Jerzy Grotowski. Their experimental (and very different) approaches achieved world renown. A small museum devoted to Kantor, a Cracovian, can be found on the pretty Kanonicza street. Two other greats of the theatre, Andrzej Wajda, and Slawomir Mrozek, continue to live in the city today.
If you want to go and see a performance, the majority will of course be in Polish. However, if you don't speak the lingo this may not be as big a problem as it sounds. Much experimental drama does not involve speaking at all, so you don't need to worry about being left out in that respect! This is also the case with the highly popular Groteska theatre which often jettisons language in favour of colour, movement and imagery. Many of their works have a direct appeal to children, exploring the worlds of myth and fantasy, and they regularly perform in the Rynek during the Summer months.
If it is opera that you want to see, (which is very reasonably priced), you will probably already know the famous stories of troubled love affairs, and spicy intrigues - they tend to be performed in the original languages. These classics are staged at the magnificent Slowacki Theatre, where you can reserve the box that was used by the Habsburg Emperor Franz Joseph and his wife. And why not indeed!
Cracow Theatres
Old Town

Stary Theatre
pl. Szczepanski 1
The oldest theatre in Poland, remodelled many times, now with a splendid, if slightly grubby art nouveau facade. A legend. Performs classics in Polish and European theatre. Andrzej Wajda is amongst many luminaries who worked regularly at the theatre. There is a small museum downstairs, as well as the famous Cafe Maska.
Slowacki Theatre
pl. Sw. Ducha 1
Opened in 1893. Very much a cradle of the Fin-de-Siecle, and a host of classics were premiered here, not least by Stanislas Wyspianski. This is also the venue of opera performances. Worth going for the visual sumptuousness in itself.
Mumerus Theatre
pl. Kanonicza 1
Founded in 1999 by director Wieslaw Holdys, Mumerus engages in "the continual search for original inspiration and new theatre forms." This troupe focuses only on original pieces, mainly inspired by non-dramatic sources. What kind of sources, you ask? How about the title track, "Mumerus," inspired by the first Polish encyclopedia, written in medieval times. The group is a member of many youth programs and international theatre associations, such as EUnetART and STEN (the Association of Independent Theatres in Cracow) and can boast performances in Denmark, Ireland, Germany, Portugal, Russia and Lithuania. Always a good show. Read more here.

City Centre
Bagatela Theatre
ul. Karmelicka 6
Modern theatre at the head of a lively avenue that leads off the Planty. It was once an elegant art nouveau theatre and then, during the 1930's a very chic cinema. Now a theatre again, it tends towards comedies, musicals and light pieces. A good portion is family based entertainment.
Stu Theatre
ul. Krasinskiego 16
Comparatively new by Cracow standards. It was founded in 1966 as a student theatre. It quickly blossomed and is now amongst the most prominent in the city. Recent premieres have included the resurrected work of the 'mad genius' Witkacy - (Stanislas Ignacy Witkiewicz,) a multi-talented artist who deserves greater recognition outside his native country.
Groteska Theatre
ul. Skarbowa 2
Very popular theatre that also performs on the square in the Summer. It has a direct appeal to children, and it favours colour and imagery over language.

Further Afield

Ludowy Theatre
Osiedle Teatralne 34
'The People's Theatre' is one of the leaders of the avant-garde in Cracow. It has had several international successes, and it has been an act to be reckoned with since its opening in 1954. It also stages productions in the small theatre under the Old Town Ratusz.
Comments