The Royal Way
The Royal Way, which leads right through the heart of the city, was once the route of Royal processions and funerals. Even after the capital moved to Warsaw in 1596, Cracow remained the venue for such events, and kings were almost always crowned and buried here. The route makes for a great walk, and it passes through St. Florian's Gate in the north, down Florianska Street (the city's main thoroughfare), through the market square, and then on down Grodzka Street to the castle. The route is still used for religious and secular processions and these are always vibrant occasions.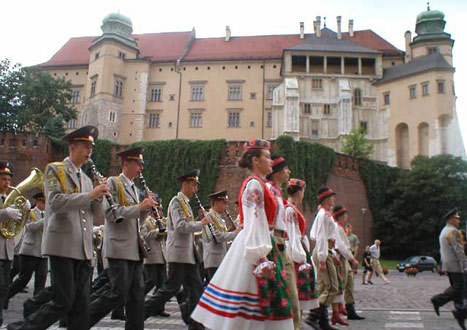 Technically you could begin at the Barbican, the city's last surviving defensive bastion. However, it is much more interesting to start a little further back. Indeed, the Royal Progress itself began a little outside the city, and this gives the walker more of a sense of the exhilaration of arriving in the old capital.
A good place to begin is at the corner of St. Florian's Church on Plac Matejki. It was at this church that kings lay in state during the run up to the funeral procession. Looking south from this church you are presented with a fine vista of the medieval skyline, with the Barbican, the tower of St. Florian's Gate, and behind them in the distance, the magnificent spires of St. Mary's. Cracow travellers have been greeted by this prospect for over 500 hundred years.
Comments
It takes about 20 minutes to walk from the Plac Matejki, past the Barbican and all the way to Wawel. It is a pretty enough walk, apart from the top part of Grodzka street which has a few too many tourist trinket shops for my taste, but find yourself a good guide to the history of this famous processional way and you will have plenty to look at along the route. When Kaczynski was buried in Wawel, his coffin was paraded along here (at least from the Mariacki Church)
Reply