The Slowacki Theatre
For many travellers arriving in Cracow, the Slowacki theatre will be the first building that strikes them on entering the Old Town. It lies directly on the route from the railway station, and like a splendid baroque hovercraft, it backs up onto the north-western corner of the Planty. The theatre may well look familiar, as it was inspired by one of Paris's grandest and now most commonly photographed buildings, Charles Garnier's Opera. However, the gargoyles that encircle the domed roof are not to be found on the Parisian model - these eccentric characters offer a distinctly Cracovian welcome to the city.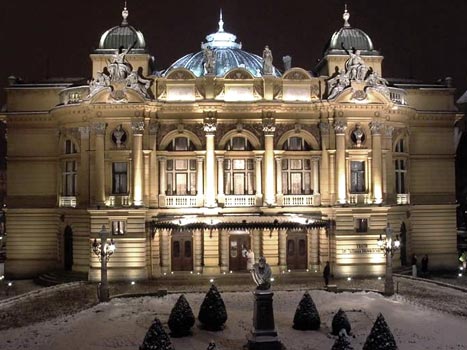 The theatre, named after the great Romantic playwright, Juliusz Slowacki, was built in 1892 by the Polish architect Jan Zawiejski. It was launched during an especially fruitful period in Cracow's artistic life, and many historic plays were premiered here. These included The Wedding (1901), a portentous foray into national myth (black knights, jesters and visions galore) which remains a much-loved classic to this day. It was penned by one of the most interesting artistic characters of the age, Stanislas Wyspianski.
Whilst the size of the theatre may be modest compared to the Parisian opera house, the interior is no less exquisite. The stage curtain alone is a work of art, and this was painted by Henryk Siermiradski who, like Wyspianski, is buried in the crypt of the Church on the Rock.
As well as plays, operas are still regularly performed at the theatre. They are not expensive compared to Western European cities (although the staff have been known to be a little eccentric in their treatment of their customers). If you cannot bear the idea of seeing people galumphing around on stage, it is sometimes possible to enter during the daytime for a couple of zloty. It is a shame that this is not allowed more regularly as this is certainly a fabulous and historic interior. And inside, the spirit of those mustachioed fin-de siecle characters, decked out in their white ties, silver hip flask at the ready, still lingers.
Comments