Legendary Krakow
Many Polish cities have their legends (Warsaw has some interesting legends in particular), but it's only appropriate that a city as magical as Krakow would have some of the most magical and epic tales about its history. So below we've compiled the most interesting tales of some of Krakow's most interesting heroes of men (and beasts). Click on the titles to get the full story...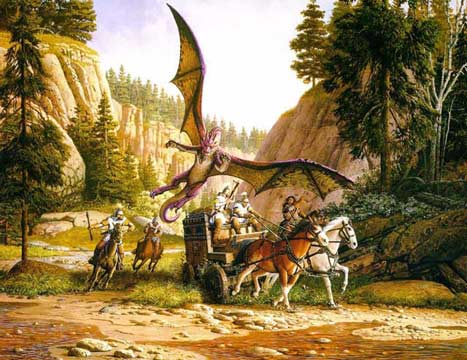 If you visit Wawel Castle you can't miss the flame-blowing dragon in front of it, or the cave it's guarding. But how did Krakow get this most magical of mascots? Click above to read the whole story of a deadly dragon and the brave young man who vanquished him.
Stand in front of St. Mary's Cathedral on the hour and you'll hear a mysterious lone trumpeter wailing a famous tune...
...and if you step inside St. Mary's, you'll see one of the most famous (and legendary) alter pieces in all of Poland.
Every summer, Lajkonik comes galloping through the Market Square, donned in Tartar dress and creating havoc wherever he goes. If you don't want to gape at him with a confused look, read the legend of Lajkonik by clicking above!
The Legend of Krakow's Pigeons
Yes, they're annoying and everywhere around the city, and particularly the Rynek, where you'll find both tourists and children equally entertained by the winged creatures. But there's a certain magic behind Krakow's pigeons, and if you read the tale you might just gain a little reverence for the flying rats.
Comments