The Krakow Dragon's Lair
As you ascend the stairs to Wawel Cathedral, you may notice a curious selection of bones that are chained to the wall on your left. One of these looks as if it might have come from the rib-cage of a blue whale. The other, an ancient, snout-like relic, is even more fantastical in its appearance. If you are puzzled as to the provenance of these objects, then do not fear. For enlightenment can be found embedded in the western defense wall above the river. There one finds an eighteenth century plaque, and it reads as follows:
KRAKUS, A POLISH PRINCE
RULED AD 730-750.
HERE IS THE CAVE
IN WHICH HAVING KILLED THE WILD DRAGON
HE SETTLED AT WAWEL, AND FOUNDED THE CITY OF CRACOW. THIS INSCRIPTION WAS MADE BY STANISLAS JABLONOWSKI, PRINCE OF PRUSSIA AND CAPTAIN OF THE POLISH ARMY ARTILLERY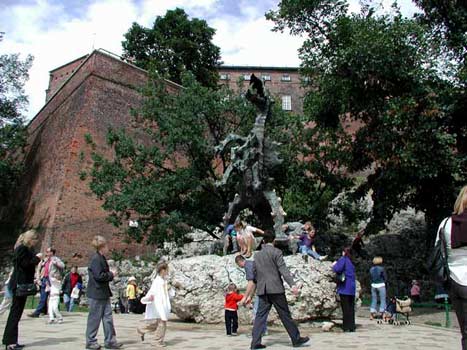 A dragon-slayer, no less, who killed a monster and ascended the throne of Cracow. It is a legend that remains amongst the best-loved in Poland. The entrance to this beast's lair can be found at the westernmost point of Wawel Hill, and it commands a fine view over the Vistula. From here you descend a dizzying flight of steps, after a hundred or so of which the temperature suddenly drops, setting the tone nicely for the job at hand - the slaying of the infernal dragon.
The caves below are dank and mysterious, a suitable backdrop for such chivalrous adventures. However, if there are some who would prefer an unassailable historical reason for investigating the place, then they too are in luck. For the caves did receive a second incarnation. During the seventeenth century, to the delight of many aristocratic adventurers, both an inn and a brothel were to be found here. It is claimed that kings themselves distinguished the chambers with their presence. A most agreeable distraction to be sure.
Comments