St. Mary's Church
By nightfall, the Church of St. Mary's is lit up, and it dominates the Cracow skyline. Its steeple, much like a crown of black icicles, thrusts up to the stars. On foggier nights, all that one can see is this cupola, hovering like an apparition in the darkness. From here, on the hour, every hour, (come rain or snow), a bugle call rings out across the city.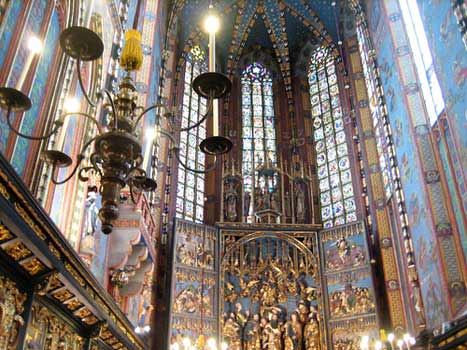 The Mariacki church is the largest in Cracow, and, after Wawel, the most important place of worship in Poland. Built of red brick and with two towers of unequal height and form, it is not conventionally attractive. However, like many places in Krakow, it may well grow on you.
Inside, the church may not be to everybody's taste. Crammed with gold and blues and studded with tombs and memorials in every conceivable corner, it is a complete assault on the senses. The recent restoration, although done with great care, nevertheless heightens this excessive quality. The church is well worth exploring, however, and if you are put off by first impressions, stay a while and have a look at some of the individual works of art. For there are some real treasures here; be they paintings, tombs or sculptures. The stained-glass windows are magnificent, at their most impressive at noon on a sunny day, when light floods in from outside. They were constructed in the late fourteenth century, and are masterpieces in their own right. But perhaps the most famous of all the monuments here, and understandably so, is Veit Stoss's extraordinary altar-piece.
Whatever qualms one might have about St. Mary's, a visit to the basilica during mass might prove to be a revelation. Regardless of one's faith, to see the church packed to the doors, the altar-piece gleaming in the sunlight, and to hear the roar of the organ above, is a truly uplifting experience.
Comments