Wroclaw Airport
Wroclaw's Copernicus Airport is located on Strachowice (Wroclaw, ul. Skarzynskiego 36), 12km west of the centre of town. It started life in the thirties as a small German airbase (Wroclaw was part of German territory before the Second World War - see our page on Breslau), before taking on civil aviation duties in the 40s and 50s. Strachowice only became an international airport in the 1990s, when flights began to Frankfurt Main. Today however you can fly from Wroclaw to a host of international airports such as Alicante, Barcelona, Bolon, Burgas (from 2010.06.12), Bristol, Brussels, Cork, Doncaster Sheffield, Dortmund, Dublin, Dsseldorf, Dsseldorf Weeze, East Midlands, Eindhoven, Forli, Frankfurt Hahn, Frankfurt am Main, Glasgow, Liverpool, London, Malaga (from 2010.06.25), Milan, Munich, Oslo, Paris, Rome, Shannon and within Poland to Warsaw.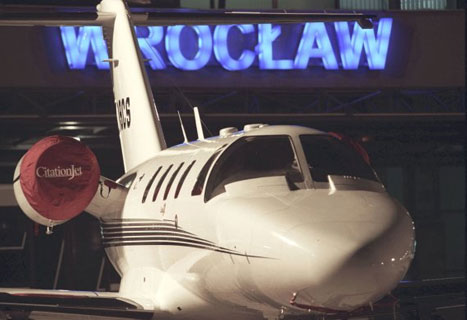 You can get to the airport easily enough from town on the 406 bus (from ul. Dworcowa, 100m North of the main train station). It takes 20 minutes and runs twice every hour, so leave a little time. If you prefer not to wait - time is money after all - then in advance, or take your chance in the ranks.
In terms of facilities the airport has a handful of shops and eateries, a post office, ATM, bureau d'exchange, first aid unit and of course being Poland it has a chapel as well.
If you need any more information we suggest you check out the official Wroclaw Airport website. Worth a look if only to peruse the photo gallery of guests that include Jacques Chirac, Gerhard Shroder, Chris De Burgh and Santa Claus.
Comments