Shops and shopping...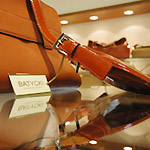 Whether you're simply spoiling yourself or trying to track down that perfect present for Auntie Noreen, its always difficult to know where to begin when you're in an unfamiliar city. Here are some ideas to get you started as well as a couple of tips about the best places to pick up good books and newspapers. Cracow is changing all the time and individual stores with real character are opening up week in week out so it shouldn't be a problem to find what you're after (or a nice surprise that you weren't expecting!). Of course if you prefer the shopping mall experience then Galeria Kazimierz, Galeria Krakowska and the newly opened Bonarka City Centre are essential ports of call.
Looking for something specific?
See on Map
Top rated shopping in Krakow