Warsaw's Luxury Hotels
Not so long ago, Warsaw's luxury hotel scene consisted of a couple of cockroach-ridden establishments that seemed straight out of a John Le Carre Cold War thriller. To say that things have changed since 1990 would be something of a gross understatement. Out went the bugs - both the insect and the intelligence kind - and in came the spas, the swimming pools and the underfloor heating.
As the capital of Poland, Warsaw immediately took the lead over Krakow as a business hub. A cluster of smart hotels sprung up, complemented by a clutch of cosmopolitan restaurants. Yet although Cracow seemed to have the edge as a tourist destination, something changed around 2005, when trendy travel journalists were suddenly leaping to dub Warsaw as the peak of hip.
These days, Warsaw's luxury hotels come in all shapes and sizes. You can set yourself up in an exquisitely restored pre-war classic that's steeped in history, or bask in boutique bliss at one of the city's more diminutive exclusive hotels.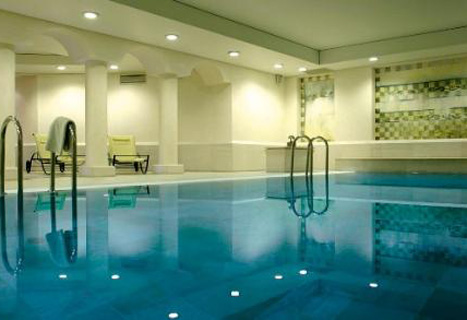 Above: The swimming pool of Le Regina, one of Warsaw's most popular luxury hotels
Top of many traveller's lists will be the Hotel Rialto. Art Deco rules the roost here, and fittingly so. The Rialto is an affectionate tribute to the era when Warsaw was one of Europe's chicest cities. During the 20's and 30's, Poland produced a galaxy of Art Deco wonders following her triumph at the Paris Exhibition of 1925. With its svelte, jazz age style, Hotel Rialto seems tailor-made for vampish film stars brandishing voguish cigarette holders - the place would have fitted in perfectly in Peter Jackson's King Kong. This is the hotel to book for a weekend of fun.
Another boutique style beauty is Le Regina. Winning top marks for luxury, this hotel has made its home in the laid back New Town. We say new, but this part of Warsaw was originally christened the New Town in 1402. Its cobbled streets were amongst the first to be revitalised after the Second World War, and today it's one of Warsaw's most picturesque spots. Le Regina has set up shop in a former nobleman's palace, but there's nothing remotely fusty about the place. Expect cool modern interiors in creamy shades, complemented by a host of quirky furniture. There's a hint of Scandinavian chic about the place, with smooth-finished wooden surfaces and elegant yet unfussy fabrics. Le Regina was voted Poland's most prestigious hotel by Forbes Magazine, and its five stars are well-merited.
Staying in five star territory, but moving to a more traditional incarnation of the luxury hotel, the Bristol Royal Meridien deserves a special mention. This neoclassical belter is one of the historic hotels of Europe, immaculately renovated in 1991. Previous guests have included Charles de Gaulle, Marlene Dietrich, Douglas Fairbanks, Bill Clinton and pantomime favourite Maggie Thatcher. With its home on the Royal Way, the hotel has location, location, location - guests can step right out into the buzzing heart of Warsaw. This is the grandest hotel in the capital, and it has some presidential suites to match.
Changing the tune again, but remaining in the luxury hotels bracket, there are a number of business style hotels that are also worth a look. The Sheraton offers the first class standards that you'd expect. The Intercontinental also has plenty of appeal. One of its winning features is a swimming pool right up on the 42nd floor. The view is square on the Palace of Culture. In other words, absolutely unforgettable. Another popular choice is the Westin, famed for its space age lift. Next door is the Radisson SAS, another reliable venue for business travellers. Both these hotels boast a handy central location, and travellers with time to spare can discover the Nozyk synagogue just over the road - Warsaw's oldest surviving example.
Given the exhilarating pace of change these days, travellers can count on more luxury hotels in Warsaw popping up soon. So watch this space for news of new additions. Meanwhile you can click on to link to book the finest Warsaw hotels of the moment!
Comments