Warsaw - The Royal Way
Like Madrid's Gran Via or Paris's Champs Elysees, Warsaw has its own grand avenue - the Krakowskie Przedmiescie - not as easily pronounceable as its continental cousins, to be sure, but with all the sweep of a historic thoroughfare.
This fine promenade was most memorably captured by Bernardo Bellotto in his paintings for Stanislas Poniatowski, the last King of Poland, and these can still be enjoyed today in the Royal Castle.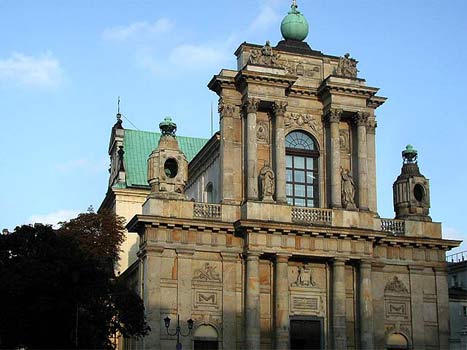 The Royal Way leads off the historic Plac Zamkowy at the foot of the castle. From there it stretches away south, running parallel with the River Vistula. It's main artery is the Krakowskie Przedmiescie, which in turn leads into Nowy Swiat - literally 'the New world'. This stretch of the route had its heyday in the 19th century, but in recent years it has reestablished itself as one of the chicest streets in Warsaw - awash with cafes, shops and restaurants. At the end of this road the Lazienki area begins, with its parks and the wonderful Palace on the Water.
For centuries the nobility built palaces along the Royal Way, and these were faithfully rebuilt after the war. Thus it's well worth pottering around off the main thoroughfare. A fine example of Warsaw's palaces is the Ostrogski, which now houses a museum devoted to Poland's greatest composer Frederyk Chopin. The Church also erected some impressive buildings in the area, including the baroque Bernardine Church of St. Anne. The Royal Way also houses the central branch of Warsaw University - Poland's highest seat of learning.
Comments