Poland's Pre-War Panache
'Nie Tylko Art Deco' (Not Only Art Deco)
May 18th - September 2nd 2007
National Museum, ul, 3 Maja 1
Art Deco usually conjures images of a jiving New York - a world of jazz, svelte cocktail bars and ball-busting movie producers with a penchant for cigars and not only. But rewind to Paris's 'Exposition Internationale des Arts Decoratifs' of 1925 and we find that Poland was the toast of the show.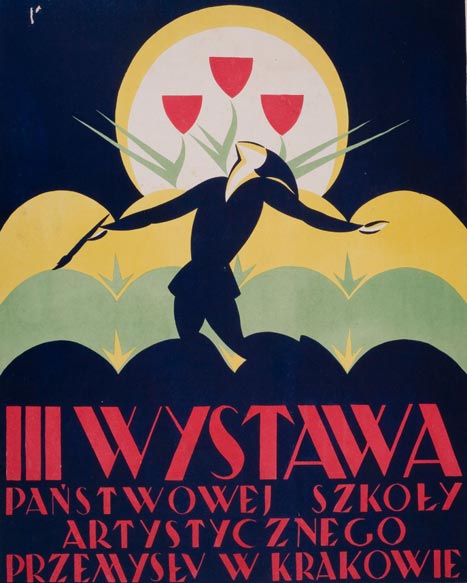 Above: Anna Birtus-Seifert, 'III Exhibition of the State School of Industrial Design in Krakow' (1926), courtesy of Krakow National Museum
This season's exhibition at the National Museum draws back the curtain on the brilliance of Polish talent during that era. The Poles embraced the Art Deco style with gusto, and after the triumph of Paris in 1925, the new style found it's way into all corners of contemporary design.
However, whilst America's 'zig-zag style' was never truly extinguished, the Art Deco world was snuffed out in Poland with the coming of Stalinism. Hit films from the 1930's were no longer shown, and pre-war art was invariably regarded with the utmost suspicion. It wasn't until the fall of the Berlin Wall that a substantial exhibition of Polish Art Deco could be staged. Since then, trinkets from that era have become some of the most sought after treasures in the Polish art world, with dealers falling over themselves to snap pieces up. This is hardly surprising given the sheer quality of Polish Art Deco. This was true not only of furniture, but also of more transitory treasures such as posters, postcards and chocolate boxes. These were often endowed with folkloric flourishes that gave Polish Art Deco a distinctive flavour of its own.
The inspiration for this exhibition came from a substantial loan from Lviv, Ukraine (formerly Polish Lwow). An extraordinarily rich collection of Art Deco posters has managed to survive there in a branch of the city museum, the largest single collection in existence. 100 of these have come to Cracow's National Museum for this one-off exhibition. As it goes, the Polish poster needs no introduction to art aficionados, but the Summer show is decked out with many other kinds of applied art, including furniture, glassware, ceramics and more. There's a veritable horde of forgotten treasures, so don't miss the chance to have a look.
Comments