King Kong's Polish Connection
Many film directors can't resist an amusing cameo in their movies. Roman Polanski took great pleasure in roughing up Jack Nicholson in Chinatown, whilst Sam Raimi thought it only decent to play a hitchhiking fisherman in his zombie-flick The Evil Dead. Meanwhile, the great Alfred Hitchcock clocked up a stunning 37 cameo appearances in his films. Yet perhaps the most stylish director cameo of all was Merian Cooper's appearance in King Kong (1933). As Kong flails at fighter planes from the peak of the Empire State Building, one dapper pilot comes into focus and terminates the mighty beast. 'We should kill the sonofab***h ourselves' Cooper had quipped before filming his epic.
Few of us would turn down the chance to play fighter pilot for a day, especially knowing that we're not actually going to get turned into toast. But Cooper was no novice to the role. In fact, the creator of one of Hollywood's landmark movies was already a war hero in his own right. Yet curiously enough, his fame had not been won fighting for his native America, but Poland.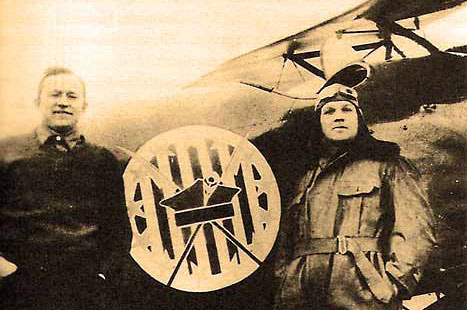 Above: Merian Cooper (left) with his comrade-in-arms Cedric Fauntleroy, founders of Poland's Kosciuszko Squadron. Merian Cooper went on to make 'King Kong'
The son of a successful Florida lawyer, Cooper had been brought up with tales of his ancestor's comradeship with Kazimierz Pulaski, Polish hero of America's War Of Independence. A romantic at heart, Cooper would become transfixed by the challenge 'to act in Poland as Kosciuszko and Pulaski had acted in my own country'.
Having caught the tail-end of World War I, Cooper was keen for more adventure, and he took a job distributing aid to the war-torn yet newly independent Poland. "There is a romance to the word 'Poland' that attaches itself to scarcely any other country," he wrote.
Cooper's moment came when Poland's showdown with the Red Army began in 1919. The young pilot persuaded the Poles of his usefulness and set off to Paris to recruit some American comrades. A couple of months later, Poland's first air regiment was born.
The Kosciuszko Squadron, as it was dubbed, was given the task of defending the south eastern city of Lwow. Cooper's boys fought 'like madman', and by the end of the conflict, Polish General Listowski concluded that without the pilots "we would have gone to the devil a long time ago."
Cooper himself embarked on over 70 missions: "He is already the hero of this city," wrote his comrade in arms Cedric Fauntleroy in June 1920, "and if he keeps on at the rate he is going, he will surely become one of Poland's national heroes."
Yet just a few weeks later, Cooper was shot down. Owing to the huge bounty on his head, not many were counting on his survival. Yet ever the improviser, Cooper managed to persuade his captors that he was in fact a low-ranking nonentity. After several months shovelling snow in a Soviet labour camp, he escaped with two Poles and walked 500 miles to the Latvian border. He made it to Warsaw just in time to receive the Virtuti Militari - Poland's No.1 honour - from Poland's leader, Marshal Pilsudski. Amazingly, the Poles had managed to beat the Russians and stave off Soviet expansion (for the time being at least...).
After enjoying all the adulation - not least that coming from female quarters - Cooper left Poland and travelled to far-flung corners of the world making documentary films. These experiences were to provide the main thread for King Kong, today reborn in Peter Jackson's stupendously entertaining remake, which is dedicated to Cooper.
In June 2005, the Polish War Cemetery in Lwow (now Lviv, Ukraine) was reopened and wreaths were laid at the foot of the monument to the nine American pilots who perished fighting for Poland. Forgotten for so many years, Cooper had made a double comeback.
Comments
One of the Warsaw streets was given Cooper's name in 2008
Reply
Glad to see that Merrian Cooper is getting more press for his efforts fighting for a free Poland against the Soviets. I wrote a letter a few years ago to the Polish ambassador to USA that they name a street in Warsaw after him but I never got a reply. He truely was an amasing real-life Hollywood figure.
Reply