Travelling to Zagreb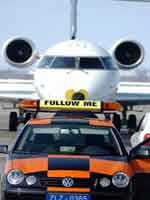 Above: Follow that car!


Below: The famous red, white and blue... Of Croatia Airlines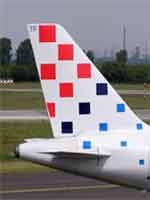 By air
Located in the village of Pleso 14km southeast of city, Zagreb International Airport may not boast the high-end boutiques, endless dining options and duty-free offerings of London's airports, but nonetheless, the airport is perfectly adequate and the essential services are all present. Traffic into and out of Zagreb is increasing rapidly, and by 2011 the airport will boast a new terminal with services similar to those found in Europe's finest airports (the current terminal will then be used exclusively by low-cost operators). At present, Wizzair offers the best budget bet from the UK with daily services between Zagreb and Luton in summer. Croatia Airlines runs a near-daily service between Zagreb and London Heathrow while those travelling to Zagreb from elsewhere, can find daily return flights from Paris, Milan and a handful of German main cities.
By rail
Zagreb is becoming an increasingly popular destination for backpackers "doing Europe", and this is reflected in the rail connections to and from the city. A typical daily programme will find high speed trains to Venice, Thessaloniki, Munich, Budapest and main Austrian cities, providing useful link points with the rest of continental Europe whereas for those already in the area Split and Belgrade are a few hours away. Check out the further details with Croatia's national rail service hznet where you'll find details of what's going in and out daily. If you're from the UK, don't worry about feeling homesick... Rail delays are as common here as back home.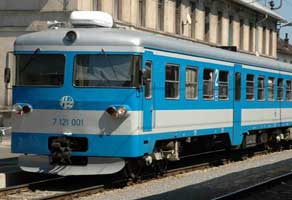 By bus
Should the urge take you, coaches companies from all over Europe will happily transport your good self and some baggage all the way to Zagreb. National Express Eurolines will be happy to cart you across Europe in around 30 hours. As well as allowing you to see a great chunk of Europe from the comfort of your window seat, a standard open-return ticket will set you back about 170GBP and is amendable, making it a viable alternative for those put off by budget airline's rigid cancellation and amendment policies.
By car
Though you may have to overcome the madcap antics of several nationalities worth of crazy driving to get to Croatia, once you finally do, you will be pleasantly surprised by the quality of these motorways. The system is relatively new and, as such, it's not sufficiently connected to a lot of parts of the country. However, those lucky folks in Zagreb have the advantage of most motorways either starting or ending in or around the Croatian capital. Though some routes are still to be completed there are already good links from Vienna (A2), Budapest (A4) and Zagreb is well-connected internally with Split and Dubrovnik. Within Croatia, motorway travel is subject to a toll system, although this is relatively cheap by Western European standards. Tolls can be paid by card or cash.
Comments