Getting around Zagreb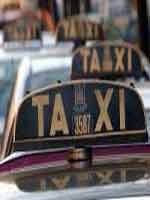 Above: As you can see, no shortage of these in Zagreb. Below: Ride one of the last remaining commie relics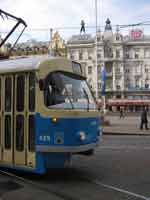 By taxi
Taxis, as in most cities, can be found outside hotels, busy nightspots, train and bus stations and anywhere where there are likely to be weary walkers. There is a minimum charge of between 15-25 HRK just to get you moving and then 6-7 HRK for each additional kilometre after the first. Before entering a dispute with a cabbie after a few glasses of fine Croatian wine, it is worth remembering too that some firms apply a premium (typically 20%) for journeys after 10pm and there is likely to be a standard fee where baggage is involved.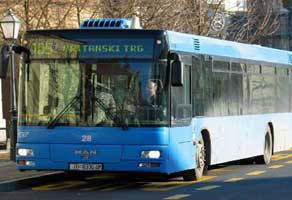 By tram
Combining the authentic Zagreb experience with brutal practicality, trams provide your best bet for getting to know this wonderful city. Just as black cabs and double decker buses have become synonymous with London, so too have creaky, but efficient, 1950s and 60s trams with former communist countries - although their gradual replacement with newer models is well underway. Tram tickets can be bought at a kiosks and newsagents all around town for 5.50HRK, or 6HRK on the tram itself. As trams and city buses are both run by ZET (Zagreb Electric Tram), tickets are valid for both forms of transport. If you're planning a day of intensive sightseeing it may be worth investing in a day pass for 15HRK. Passengers should stamp tickets the moment they board vehicles to avoid an on-the-spot fine of 150HRK. 15 day routes and 4 night routes are in operation in Zagreb, and each line tends to run every 5-10 minutes so there's rarely a need to check timetables except if you plan on catching one in the wee hours of the morning.
By bus
The bus service is generally used as a feeder service to the tram system from neighbouring suburbs, although some routes naturally enough criss-cross through the centre of town. The tickets operate in the same way as with the trams though the frequency of service can range from every 7 minutes to every 40-60 minutes depending on the given route. In addition, timetables require a fair amount of guesswork as departure/arrival times are given only for the first and last stops on each route, making trams a preferred option wherever possible.
Comments
Hello, I have a question regarding the trams. Is it a fixed fare for all routes? And how do I know when to get down? Is there a display on the tram? Or announcement? Thank you.
Reply