Zagreb Nightlife
As you might expect from a capital city, and a metropolis of just over one million people, Zagreb enjoys a deserved reputation for a riotous nightlife with the new millennium promising plenty more to celebrate than the last one. A mixture of sassy students and suave city slickers ensures that the mushrooming bars and clubs are never short of a customer or two, and with Zagreb finally on the weekends away destination list, thanks to cheap Wizzair flights the number of tourists is set to rapidly to increase and give the nightlife a dash of cosmopolitanism.
A good place to start any night out in the Croat capital is Tkalciceva street in Gornji Grad. A pretty thoroughway it also boasts the city's highest concentration of bars and cafes which are perfect for taking in the capital at a slow pace. The Main Square also makes a decent place to begin the night, with a continental cafe vibe presiding and a chance to see the world go by.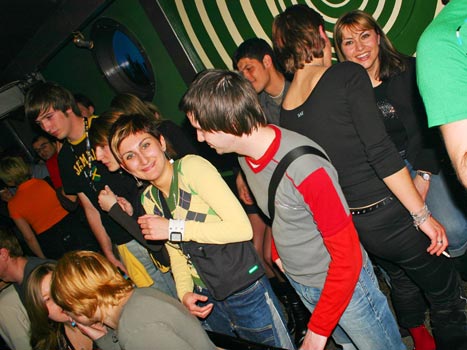 Once however you've sampled the charms of Zagreb's Old Town you might want to track down some of its classier hangouts. The name 'School' might put a few potential customers off, especially those who still have nightmares about refraction, oscillation and the Doppler effect, but Skola is definitely the place to head for lounge lizards. A futuristic-retro (spot the oxymoron) joint, it was amongst the first to revolutionise Zagreb's bar scene with hip decor and cool tunes. The recent addition of a roof terrace has only added to its appeal. Once you've done detention there, then try some of its competitors - Golf, Pif and Apartman are all created around the same funky ideals and are all found on Preradoviceva Street. Meanwhile if you want to up the stakes a bit then Boban (opened by the narcissistic footballer himself) and Hemingway Lounge Bar are the places to mingle with the rich and beautiful.
In terms of nightclubs, Zagreb has plenty to offer too. Saloon and Sokol are two perennially popular hangouts that have provided the city with many a wild night out, whilst more alternative fun can be had at the Tvornica Club, which hosts all manner of live acts and shows, and cult fave Kset.
During the summer much of the Zagreb nightlife scene decamps to Lake Jarun. Beaches, babes and bikinis get the juices boiling by day and a plethora of bars, cocktail lounges and clubs provide the release by night. Aquarius and Piranha are two hot locales worth checking out, and can justify the taxi ride during the winter as well.
Comments