Spend Spring in Krakow!
There's no better time to visit Poland's most stunningly beautiful city than during the Spring season. As the city shakes off the frosty mantle of winter she reveals a new side of herself that charms even the hardest of hearts. The trees in the Planty gardens begin to bud, the cold rocks of the Wawel Castle soak of the spring sunshine, and the cafes and bars of the Old Town are once more alive with tourist and Krakovians sipping beers and coffees in sunglasses and t-shirts. The season of new life is evident everywhere you cast your eyes!
Perhaps it can be said of any European city, but Easter is a particularly special time in Krakow. This strongly Catholic town really shows some of its character and heritage at this time when charming traditions (some dating back to Pagan times!) are two a grosny. Watch out for the tallest Easter Palm competition on Palm Sunday, be moved by a Passion play on Good Friday and admire the painted eggs and baskets on their way to church on Easter Sunday. A magical time indeed.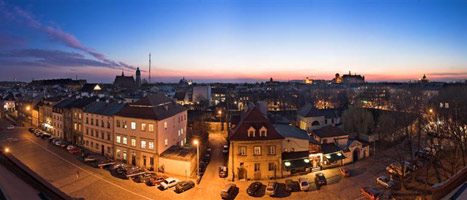 Nighttime panorama from the roof terrace of the Hotel Rubinstein
If you fancy heading over to Krakow this Easter season, then Cracow Life - thanks to our close contacts in the hospitality industry - can offer you some very special package deals, valid for all of April. Get in contact with us and we will arrange for you to stay in one of Krakow's most charming hotels, the Hotel Rubinstein, as well as arranging your airport transfer and giving you the option of a host of tours to top attractions such as the Wieliczka Salt Mines, Auschwitz and Zakopane.
The Rubinstein is a splendid new addition the Krakow hotels scene, and is ideally situated on the sleepy Szeroka Square in the Old Jewish District of Kazimierz. Here you will be at leisure to explore, not only the rejuvenated district of Kazimierz itself - with its plethora of funky bars, cafes, shops and galleries - but you'll also be within easy walking district of Krakow's Wawel Castle and Old Town.
The prices are very reasonable this time of year, so get in touch with us with what you're after and we'll get straight back to you with a price quote. Krakow is quite simply one of the most magnificent tourist destinations on the planet - and now is the time to visit!
Comments
kazimierz to wspaniala dzielnica w krakowie, a ul. szeroka to najbardziej urokliwa w tym miescie, serdecznie polecam weekend w hotelu Rubinstein, napewno sie Panstwo nie zawioda !
Reply
I've just enjoyed en excellent cup of coffee in their outdoor cafe - the hotel is beautiful and I'll be booking my next stay here. A much needed addition to the Kazimierz neighborhood!!
Reply