Easter in Krakow
Largely thanks to its term behind the Iron Curtain, Poland is often perceived as an overwhelmingly grey country where rainbows fear to tread. But the truth is that Poles have always loved colour, and at no point in the year is this more apparent than at Easter - an inspirational time to travel the country.
In the days leading up to Holy Week, Cracow's Main Market Square will pullulate with dozens of stalls selling curious-looking totems. These paganesque concoctions, woven from dyed wildflowers, are in fact Polish versions of the Easter Palm (tropical palms were rather scarce in medieval Poland, and always full of fantasy, the Poles created their own alternative). On Palm Sunday itself, processions will bring a kaleidoscope of colour to churches across the country.
Another classic feature of the Polish Easter is the painted egg, or rather painted eggs, for as with flowers, Poles like to see lots of colour together. These 'pisanki' are an essential part of the Polish Easter table, and on Holy Saturday, families dressed in their Sunday best will take little baskets to be blessed at church, replete with pisanki and many traditional Easter victuals.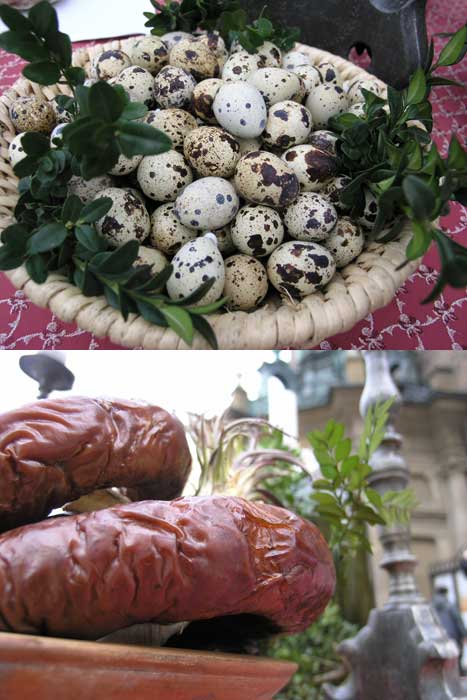 Holy Week begins in earnest on Easter Thursday, and at Cracow's Wawel Cathedral (as at cathredrals nationwide) bishops wash the feet of twelve elderly men in an echo of Christ's gesture towards the apostles at the Last Supper. The following day, Good Friday, is one of the most intensely religious days of the year, and Krakow's churches will fill up with the faithful. The tone is deeply mournful, recalling Christ's crucifixion on this day.
Easter Saturday is a more cheery occasion, and from mid-morning, as mentioned earlier, there will be a constant trail of families coming to and from Cracow's many churches. This blessing of the little baskets of victuals, a custom known as 'swiecone' (literally 'blessed') has been practised since time immemorial. A typical basket includes eggs, salt, cake, sausage and bread, but there will also be painted eggs and always a small model of a lamb. Not wanting to leave their pets out, children often bring a little something extra - you might even spot a little packet of Whiskas peeping out from some baskets.
Easter Sunday itself revolves around the home, and food that was blessed in church the previous day is consumed in an elaborate extended family breakfast, often involving a dash of alcohol. Cracow itself will be rather sleepy, and as with Saturday, there will be little open in the way of shops, let alone museums. However, in recent times, restaurants and cafes have started to creep open, so travellers won't be entirely left in the lurch.
Things go rather more upbeat on Easter Monday as the age-old custom of Smigus Dyngus comes into play. In an echo of a pagan rite, Poles have carte blanche to soak each other with pails of water on this barmy occasion - you might want to take a water pistol as a cunning self-defense measure. On a different note, a popular family destination is the Emaus fair, which continues to be held, as it has been for centuries, by the Convent in the Zwierzyniec district. It's a short walk west along the river from Wawel Castle. However, bear in mind that you may encounter some mischievous fellows intent on greeting you in the traditional aquatic style.
On Tuesday, life begins to return to normal - shops, offices and museums will be back in business. Some schools have one last day of freedom, and if so, many children will head for Kopiec Krakusa (The Mound of Krak) legendary burial mound of the city's founder. The traditional fair, known as 'Rekawka', has been revived of late, and there are often sword-fighting antics (by professional medieval knights of course) and various forms of pagan revelry. For a glimpse of the Rekawka of yesteryear, and indeed into the world of Polish Easter customs in general, head for the Cracow's marvellous Ethnographic museum, which has many charming old photographs, as well as pisanki galore.
Meanwhile if you're a man or woman of action, and fancy coming to Krakow for Easter - it's better than just reading about it - then visit our page on Easter breaks...
Comments