The 6 Best Coffee Spots In Krakow
Just over thirty years ago, you would have had to spend hours waiting in line simply to get your hands on the crappiest jar of instant coffee – forget about a neatly foamed macchiato.
Nowadays, free of communist coffee dictators, Cracovians are more than making up for lost kawa-drinking time. Natural culinary exploration and love for the bean combined with a gentrific hipster culture has formed an absolute city-wide obsession with implementing the coolest and most cutting edge roasting, infusing and foaming techniques. It's taking over the cafes, kitchens and even mountain tops of Poland.
Strange Brew: Plenty of Poles, old and young, regularly enjoy a unique concoction of finely ground coffee (the kind meant for machines) swimming loose in water and milk like a chewy, non-dissolvable instant coffee – completely ignoring the most basic laws of the trade. Adding weight to the theory that this drink stems from a historic mistranslation of preparatory instructions from the 13th century Turkic Tatar invasion, the Poles call it 'Kawa po Turecku'.
If you drink enough coffee to want to read this article then you are probably impatient, so, let's get to the point. Where can you drink the best coffee in Krakow?
---

Why do we love Blossom? Fresh, modern, professional – they are all about the details. Filling their cups with the highest quality speciality 100% Arabica freshly roasted according to SCA standards, they are so thoughtful about their ingredients that they pay special attention to the most overlooked (and the main ingredient): water. Blossom care enough to brew their cuppa with the best possible aqua through a special system called water programming. It's designed to specifically enhance the quality and flavour of the coffee by near distillation followed by a carefully cultivated infusion of perfectly balanced vitamins and minerals.
Where is it from? Although they don't limit themselves when it comes to exploring fresh harvests from different regions, Blossom only sources its beans from reliable producers, ensuring that they themselves only ever offer consistently high quality coffee. For this reason, Blossom has long maintained a close and loving relationship with roasting house Five Elephant in Berlin. Each time they order a new and unique batch of beans you can find them brewing it in different ways per the recommendations of the roasters. Blossom always serve 2 types of espresso, as well as machine, Aeropress, drip (v60 / Kalita), Chemex, Drip Set, Batch Brew and even their own cold brew in the summer.
Rakowicka 20 // 12 358 37 37 // Facebook // Instagram
---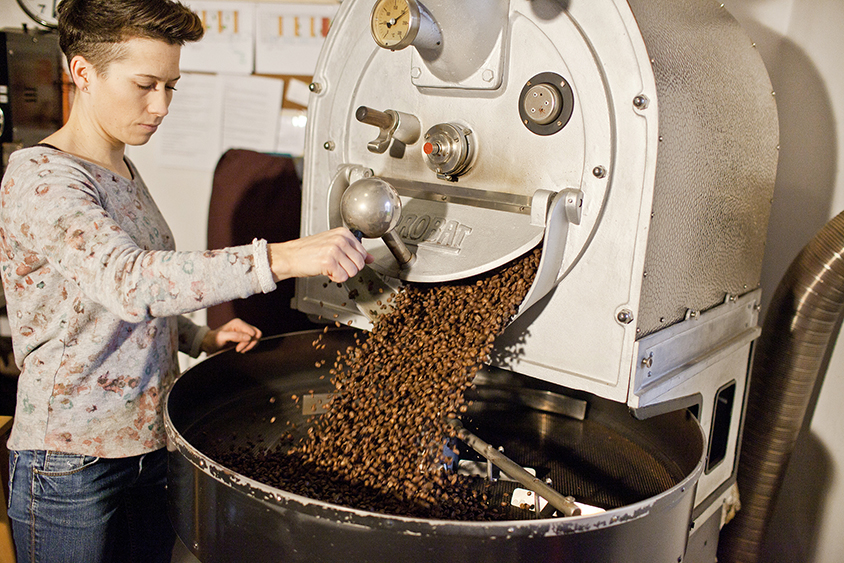 Kelleran is a local speciality coffee roaster… and it lives inside a nineteenth-century fort. Although we suspect that they are also getting tips for supernaturally good coffee from the resident ghosts, Kelleran claims that the deliciousness of their beans is all down to the roasting process. Using traditional methods to perfectly fire the highest possible quality grain of beans, they get licked by the flames of a vintage 1955 Probat Roasting Machine. This method for firing adapts to the variety and quality characteristics of green beans.
Since they are followers of the third wave coffee revolution in Krakow, we're grateful to find their brightly roasted blanc espresso increasingly taking the place of bitter, burned-out corporation's flavour too often tasted in Krakow's cafes. The best part about Kelleran is that as well as drinking their delicious coffee, you can also learn how to make it! Get an inside look at the whole process, gaining knowledge on alternative methods of brewing coffee, and maybe even roasting the beans yourself.
Kamienna 16 // 12 418 00 78 // Facebook // Instagram
---
Hungry for more? Discover Krakow's most delicious places with another super fantastic article:
Krakow's 10 Freshest New Cafes, Bars & Restaurants
25+ Krakow's Best Vegetarian & Vegan Food
Poland's Celebration of Fermentation
The 5 Best Indian Restaurants in Krakow
---

Wanna taste the most complimentary snack to a locally roasted drip coffee? This cafe's succulent namesake takes the medal with Challah: a sweetly plaited traditional Jewish bread. This Kazimierz cafe/bakery are kneading loads of tasty flavours into these natural, braided loaves and it makes the coffee taste even better. Unsurprisingly, we heartily recommend them for your first cup of the day along with one of their gorgeous breakfasts.
As for their cuppa joe, all their beans come straight from Kelleran - and you've already read about what that means! Chałka is an excellent spot to experience local flavour while juicing up your caffeine dosage. Chemex, Aeropress, Gabi, Drip & Drip V60 are on the menu along with all the machine made favourites.
Ul. Beera Meiselsa 8 // 517 214 438 // Facebook // Instagram
---

Opened in 2012, Karma is reigning monarch of the Krakow coffee crowd. A truly iconic cafe, it has it's devotees and it's worshippers who hail their cup of joe the best in town. Karma even have their own roastery and you can find their beans in plenty of other good cafes too. Despite the bulging size of food industry in Krakow, it's a tight-knit community which runs on respect. This place and the people who run it have very good karma and that's a big part of why it's so loved.
Two years into running Karma cafe, they decided that if they wanted to take their coffee to new heights, they needed to be in control of the whole process, making all the important decisions which would affect the quality of their final cup. This is how they opened Karma Roasters. Here they process only fresh, seasonal coffee which is mostly from Africa: Ethiopia, Kenya and Rwanda. If you'd like to learn more, you can join their speciality 3-day training sessions.
Ul. Krupnicza 12/3 // +48 662387281 // Facebook // Instagram
---

Tektura are not only a couple of great little cafes just off the old town but also famous as a cultural institute for coffee lovers, for brewing up loads of fantastic kawa-related events in their Stary Kleparz adjacent premises. You can deepen your knowledge of the bean with Tektura's series of coffee presentations and workshops such as Latte Art, Aeropress, Drip, Kalita, Gabi and Espresso or join a cupping evening to test your tastebuds by trying coffee for unique roasteries from across Poland and the world or compete in a Latte Art Throwdown!
As for their day to day cafe life, you might have guessed that you can try a regular rotation of beans from different places and get pretty much every style of connoisseur coffee. Chemex, Aeropress, drip 200/400, house-made cold brew - you name it. Decor is industrial meets coffee plantation warehouse: matte black and whitewashing mingle with earthy tones and lovely little cactuses embedded in their thick wooden tables. Magazines and Jenga sets couple with a lovely light menu encourage you to relax and spend some time.
Krupnicza 7 // Facebook // Instagram
Paderewskiego 4 // Facebook

---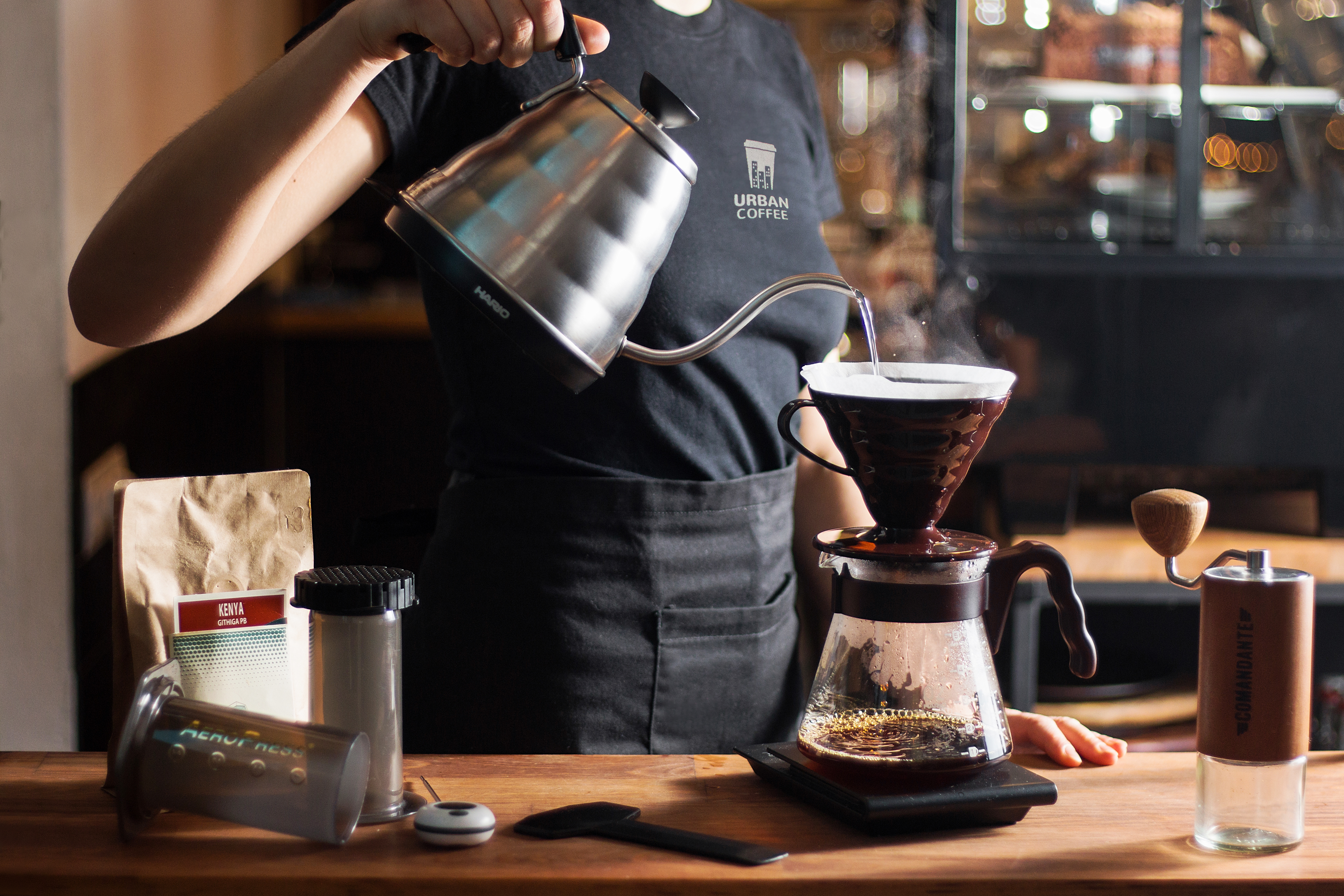 Urban Coffee is like relationship counselling service to explore your partnership with coffee. "I'm not attracted to you when you're so pale" – relax in the dark with filter, Aeropress or drip."I wish you were more passionate" – Oreo and Snickers coffee, job done. "I wish you could be sweeter with me" – Urban's got the sugar you need with 'Raff' Coffee ( w/ cream & vanilla) and Tender Coffee (w/ condensed milk). "You're too weak for me!" – How about a shot of strong Brazillian espresso? "Sometimes I just wish you could just be a bit more adventurous!" – Fancy testing out a pink, beetroot + chocolate infused latte? No matter your cup-of-joe-woes, Urban coffee has the mug to answer your prayers.
Working with roasters Coffee Proficiency, BeMyBean, Good Coffee, Ja-Wa (soon to team up with Coffee Lab), Urban Coffee explores beans from Rwanda, Ethiopia, Kenya, Nicaragua, Mexico with Brazil as a base. Urban get extra points from us for the broad variety of plant milks and alternatives which make their coffee ultra inclusive as well as their lush menu which includes all-day breakfasts.
Ul. Św. Wawrzyńca 3 // 731 444 563 // Website // Facebook
---

Did we leave out something delicious? Tell us about your favourite places in the comments below!
Comments