10+ Krakow's Freshest New Cafes, Bars & Restaurants
Already bursting at the seams with thousands of bars, restaurants & cafes, our food-obsessed city shows no signs of slowing its growth... and we're definitely not complaining.
With so many beautiful tenement houses and little traditional huts needing some love & care & attention, it's fantastic to see them filled by increasingly delicious, exotic, inventive & historical gourmet offerings.
From true local experience to foreign flavour, Krakow is on a quest for top quality, new sensations, ancestry, exploration & inspiration. Here are our 10 favourite new places on the Krakow food scene.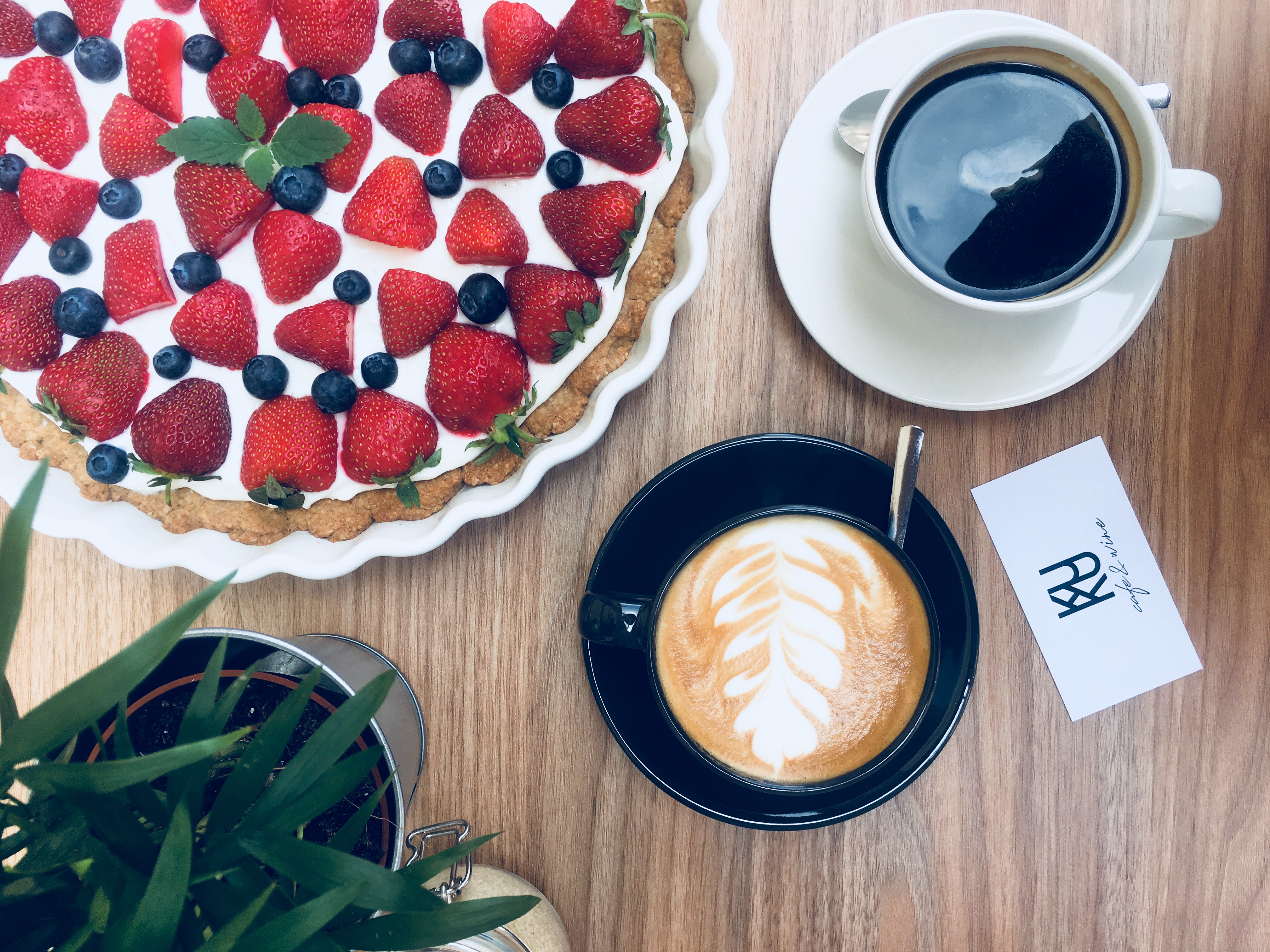 Having opened just a few weeks ago, this special little cavern of coffee is overflowing with fresh, youthful spirit. Piotr had become sick & tired of the all too common stiff, stressful & uptight attitude in the food industry. He dreamt of a cafe where he, his staff and the customers could feel safe and comfortable, welcomed and relaxed. Long story short - he made his dreams a reality & we think he nailed it.
He chose his staff well with super sweet, silly & down to earth Kaja as his right-hand woman, while a luscious cake provider certainly sweetens the deal. One of the loveliest things about this cafe is how much thought they put into the different needs of their customers, Artificial sweetener in cakes for the diabetics, vegan cakes, gluten-free bread. If you want soy milk in your coffee, guess what? Free. They really want everyone to feel welcome & it's beautiful.
KuKu might be starting out small, with Tuscan coffee, fresh juices, lemonade & cakes but they have big plans for serious coffee science, breakfasts, lunches & wine. So give 'em a try before they get famous. Drop in, have a chat about something random with the lovely Kaja, enjoy a piece of cake & a top coffee in the minimalistic modern greenhouse meets historical brick atmosphere.
Ul. Bożego Ciała 5
---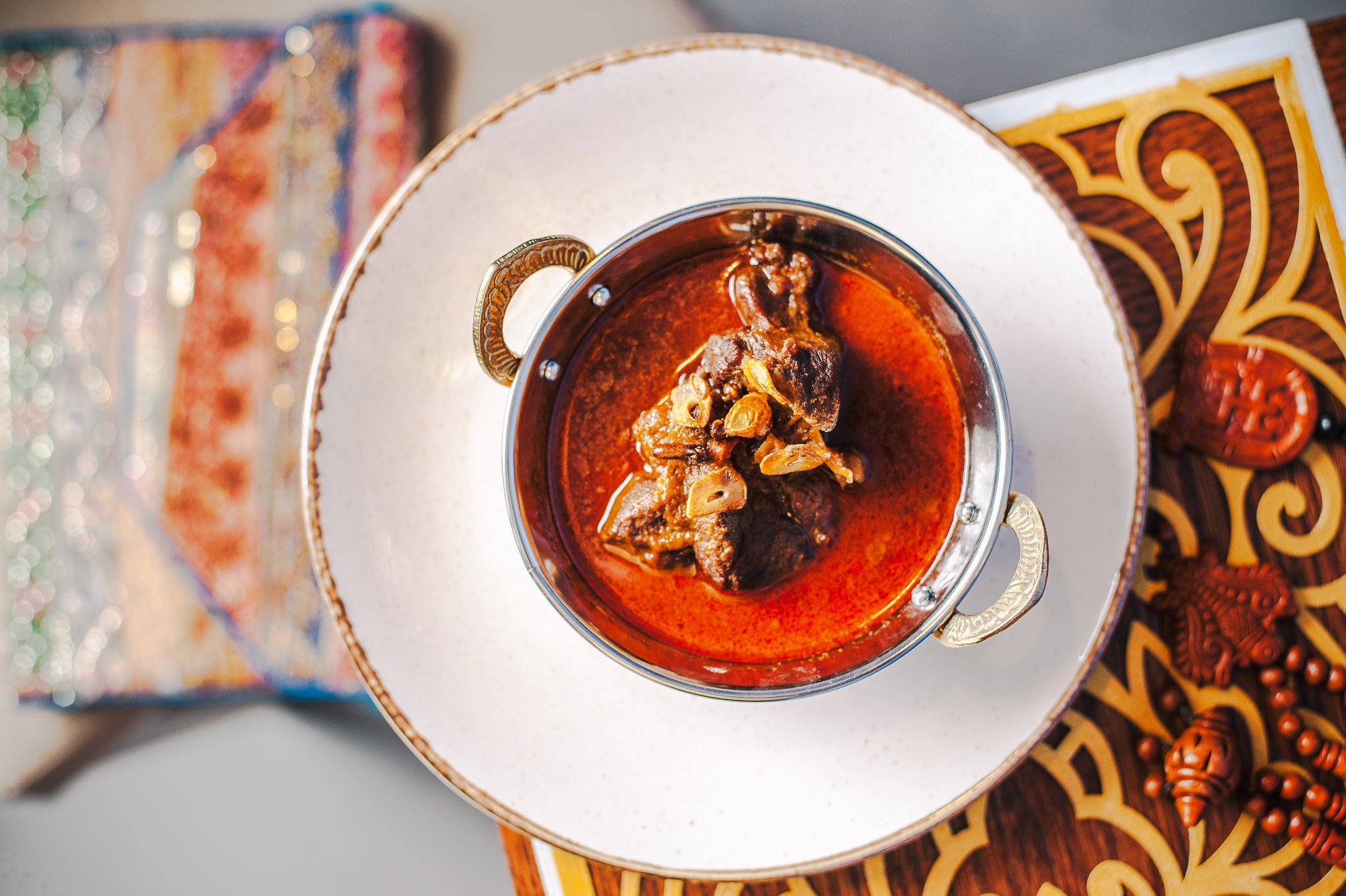 Brand new on the streets of Kazimierz, this is no bog standard, confused curry house. Parampara, with their name translating to 'tradition', are not only serving up some of the finest and most uncommon Indian cuisine in Krakow, but also a true insight into the culture. With Indian Queen of Krakow, Sheuli Bhowal (Eataway, Barka, Cafe Młynek & more) at the helm; discover new flavours on the ultimate journey through the flavour map of India.
From the safety of this beautiful restaurant on Kazimierz' Ul. Starowislna, you can taste your way across that spicy country with unique & surprising regional dishes, rare to the food scene in not only Krakow but the whole of Europe.
Try 'Shingara' (our favourite!), the Bengali version of a samosa, or learn about the fascinating Portuguese seafaring history of Pork Vindaloo, before you enjoy a bowl of the true original. A proper tandoori oven means the best naan, tandoori & kebab, plus drop in for lunch & you can even enjoy an authentic Thali set.
There are so many intriguing dishes on this menu that it might take us a while to work our way right through… but we are happily up for the challenge. If you're reading this thinking "that all sounds amazing but how will I convince the kids?" rest easy - there's a super palatable children's menu, along with a spiciness guide for the adult children.
---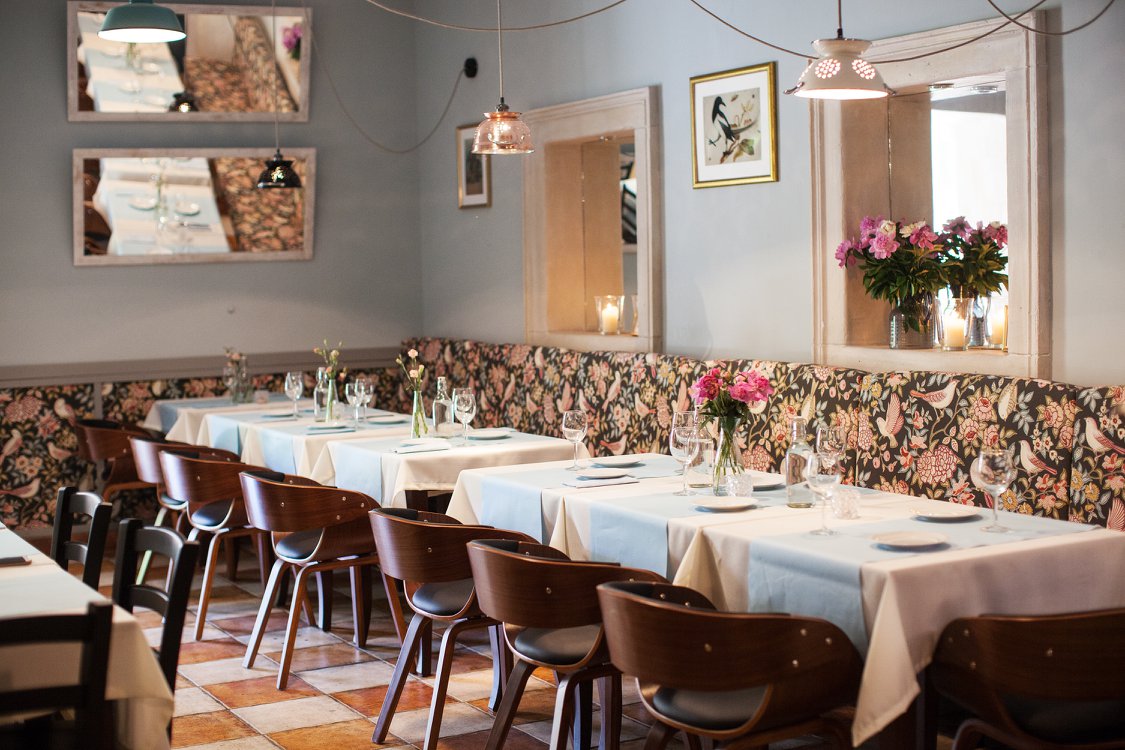 Now, we really loved this place. Nakryto is a Polish Restaurant and sure, there are a lot of Polish Restaurants in Poland and Krakow, good, bad & mediocre… basically there's a lot of competition. What makes Nakryto stand out is that they dove just that little bit deeper than we are used to finding. No matter how much some restaurateurs like to talk about 'regional produce' and 'tradition' they are usually just empty buzz words. For once, we found somewhere that really meant it.
Kasia, the owner... you can feel that her heart is in this place. Her father owned 3 restaurants & her mother is a cook. She knows the earthy secrets told by from life, love, experience & ancestral instinct. As an artist and Tarnowian, Kasia has a natural feel for colour, flavour, concept, detail, historical weight & honesty.
As for the menu - when we think of these ingredients and where they came from we get lost in (pretty accurate) daydreams of Małopolskan fields and forests. Grandma's making cheese, foraging for mushrooms & picking the plums. Grandpa's in the chicken coop, tilling the wheat & tending the beehives. Buckwheat flower honey accompanies vodka tasting platters laden with homemade kiszonki (pickles), regional meats & cheeses. Soup, duck, trout, potato pancakes & pierogi waltz through with real style & authenticity, as does the famous Krakowian pork burger 'Maczanka Krakowska'. If you want to try some properly honest regional Polish food, connected with the land and the people, cooked with time, patience and passion, at a reasonable price, in a beautiful cottage like atmosphere while you drink wine grown only 30km's away... take a hint :)
Ul. Meiselsa 14
---
All they wanted was some fresh, well-made traditional Polish food… but they couldn't find it anywhere except for Babcia's. Krakoska is the lovechild of a proud Krakowian couple who weren't content to let the true charms of Krakow Cuisine get lost in all the gentrification & globalisation of the city's booming food scene.
Settling into the ground floor of a historical tenement house on the Kazimierz side of sleepy ul. Sebastiana, this newly opened cafe feels miles away from the hustle & bustle, despite being only a minute's walk from one of the most frequented parts of Krakow.
Although it looks small from the outside, it's bright & airy on the inside, stretching back into two large & rather sweet high-ceilinged rooms. With soft pastel tones, geometric designs & clean fresh lines - Krakoska represents a whole stratum of local feels through modern design retrospective Krakow kitsch. Fascinating vintage photographs & postcards line the walls, offering a unique glance at the history of Krakow's streets, buildings & people.
Their menu continues the Krakow kitsch theme with regional specialities such as classic Polish soups, smalec, beef or herring tartare, pork schnitzel, Oscypek (smoked mountain sheep's cheese), famous kiełbasa from Lisiecka & bagels with contemporary fillings such as roast beef w/ onion jam or smoked mackerel & cottage cheese. A truly Krakowian breakfast menu, lemonade, fresh juices & some damn good coffee (from appropriately named 'ilovecoffee') plus veg & vegan options round off the kaleidoscope of Krakow's past & present.
Ul. Sebastiana 33
---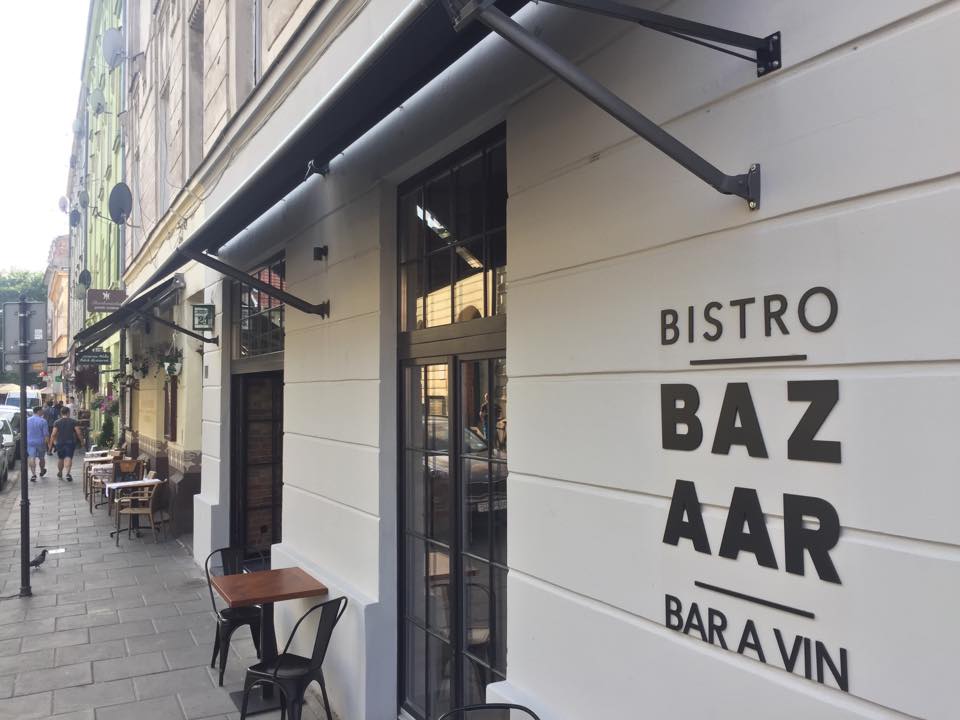 Seeking to fill a gap in the market, some of Krakow's best restaurateurs are teaming up to create a laidback French inspired wine bar/bistro… but not too laidback. They aim to break the perception that wine has to be super fancy & exclusive; creating a space where you, the commoner, can feel comfortable to sit and drink a glass of wine alone at the bar, making small but powerful hand gestures as you converse with the bartender about Sartre. Alternatively, you can munch on some snacks or savour a classic French meal from the short seasonal menu, such as boeuf bourguignon, onion soup, fois grois, olives, a cheese plate or one of their French/Polish mixed race babies, such as fried herring.
Back to the wine. It's all sourced from France & has been specially selected by a well-known expert. Bazaar takes it super seriously, aiming to have a state of the art wine portfolio which will include special one-off vintage corkings, with offerings ranging from easily affordable to very, very special occasion.
Bazaar might be as centrally located in Kazimierz as you can get (Plac Nowy), but they ain't havin' none of that dimly lit, grungy, antique Kazimierz style. We're not quite sure how the place will look as it was still under construction when we visited, but from what we saw you can expect clean, modern classic, minimalistic lines, big, black expensive looking industrial lamps, lush little deep green sofas and a gorgeous big downstairs space with a great big wooden table for wine tastings which doubles as an in-house bakery space (big ups for baking their own bread), plus outdoor seating right on Plac Nowy.
Ul. Meiselsa 24
---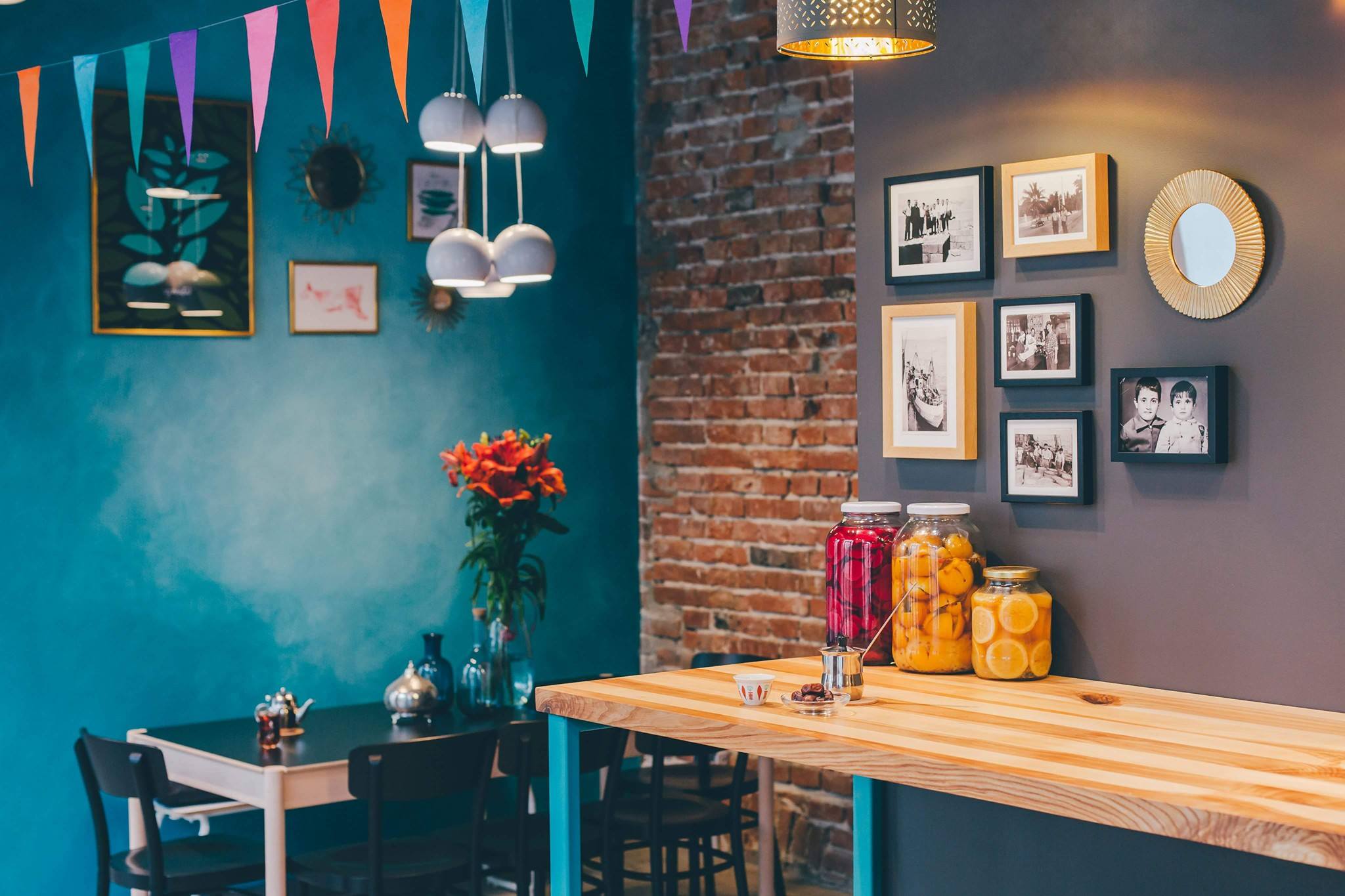 After a short but powerful entrance onto the Krakow food scene, Mezzalians and their newly addicted customers were plagued by curses from those fickle gods. Have you ever read Homer's 'Odyssey'? Totally out of order behaviour from Poseidon there & much like Odysseus, Mezzalians had been tossed to the seas. But they strapped themselves to that mast and at last found their way to the shores of sunny Ithaca in the form of their gorgeous new restaurant @ Kalwaryjska 66.
In general, there's really not much tapas of any nationality in Krakow & not much Syrian or Middle Eastern food that isn't just a falafel or kebab joint. So we are seriously grateful for these guys - with a menu full of not only several varieties of perfect hummus but also true, traditional dishes that you could only taste in a Syrian home & are totally unique to the Krakow food scene.
You can mix and match with your tapas bowls, or even choose from the full meals on the dinner menu. Lots of succulent lamb for the meat eaters, but also a ton of veggie/vegan dishes
Ul. Kalwaryjska 66.
---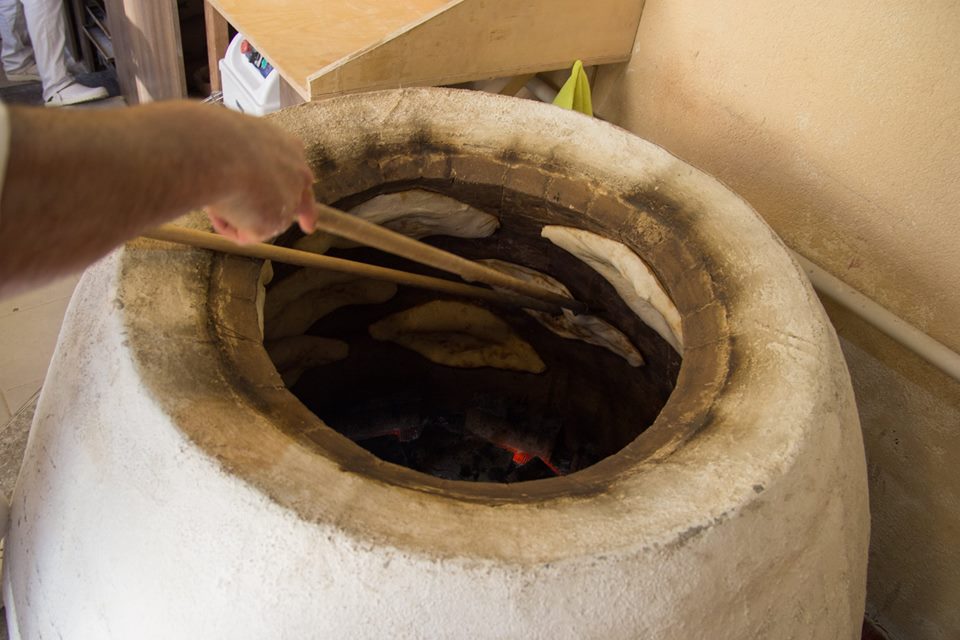 A few months old now but to us, it feels like the first day and a lot of people are still yet to discover this absolute jewel. This little Georgian bakery hut has really won our hearts. Inhaling the beautiful scent of freshly baking bread and staring wide-eyed at all the flame roasted sexiness on display in the window... the man in the background, kneading dough and placing it inside the big cool clay looking baking mound, similar to a tandoori oven… It took us a few times walking past in awe before we were brave enough (and sure enough it wasn't a dream) to approach the counter & order something. We became immediately addicted.
They bake fresh throughout the day & knead to in order to keep up with the understandably massive demand, as it seems everyone else who's eaten here has become addicted too. Their bread is moist, succulent, a bit sour somehow (but definitely in a good way) and the perfect amount of chewy. You can buy a big flat lavash bread, a long thin stuffed version called 'Czaczapuri' or a shorter fatter stuffed one called Lula Kebab. Choose between cheese, beef, pork, chicken & bean fillings, or even a riiiich desert version filled with chocolate & raspberries.
Their two huts are easy to find, located in Korona, Podgorze & Plac Nowy (open super late & perfect for after a few drinks) - just follow the delicious smell.
Plac Nowy 4b & Piłsudskiego 2
---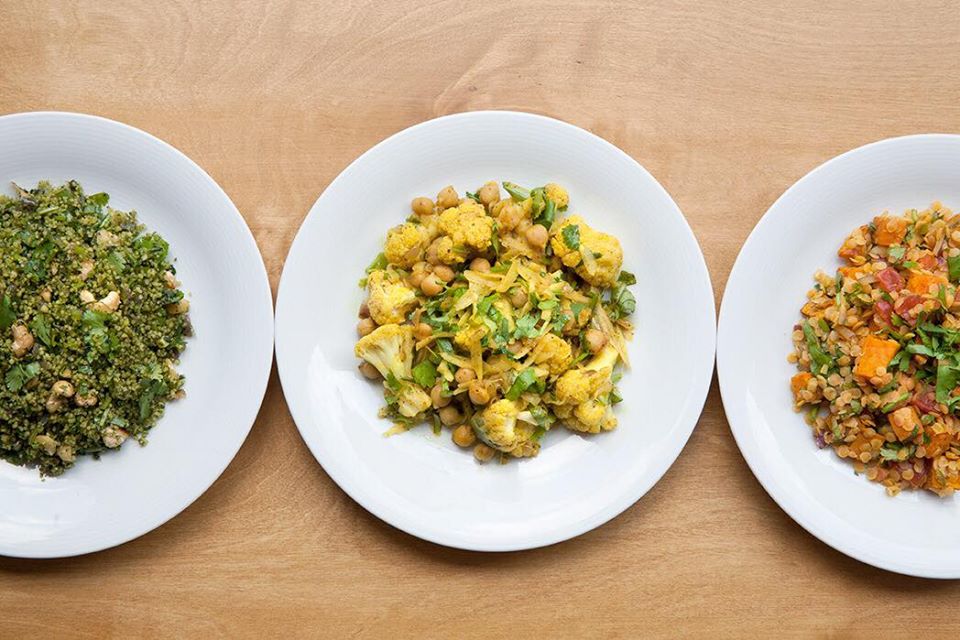 Just in case you've never heard of the original Massolit - it's quite the Krakow icon. A rambling bookshop that can't be described in any other way than delicious (and we're not talking about the adjoining cafe). Massolit cooks will be their second child, after the success of their 'Massolit bakery and cafe'. As far as we're concerned they can keep those legs open & pop out babies all over town.
The vegan/vegetarian menu is seriously refreshing to read through. Instead of serving up the same old confused just-toss-in-whatever-veg-you-can-find bistro slop we are tired of finding on vegan/vegetarian menus, Massolit have vision: clean, fresh, simple. They let their ingredients sing their song, giving them room to breathe by composing each dish with just exactly what it needs and no more.
Their gorgeous new location is right next to the Old Synagogue in Kazimierz. We recommend savouring a slow morning with one of their sensational breakfasts… and then coming back for lunch.
Ul. Josefa 25
---
Adding an Asian edge to the already super cool neighbourhood of Kazimierz' Ul. Dajwor are the aptly named 'Ramen People'. First off, we respect the no bull approach to naming themselves - honest, straightforward, sends us philosophical. And as for the food? We can't exactly be angry that there's even more ramen for us to eat. Is it possible to feel anything but love for ramen? And what about for people? Well, obviously we can feel plenty of ways towards the latter but the fact is that we should aim for love.
So... we love Ramen People.
With 13 types of ramen on the menu, you're spoilt for choice amongst so many sensational steaming bowls of goodness. Vegans and vegetarians and veggie lovers are of course provided for with tofu & egg-free versions, while kids can order a special kinder ramen so that they don't fall in and drown in the normal larger bowl. The menu doesn't stop there with spicy delights such as a selection of pickles including kimchi, shitake & mung beans along with special Japanese summer bowls. Plus, of course, a lovely list of aromatic teas, matcha, cold brew coffee, lemonade & free carafes of water.
Ul. Dajwor 19
---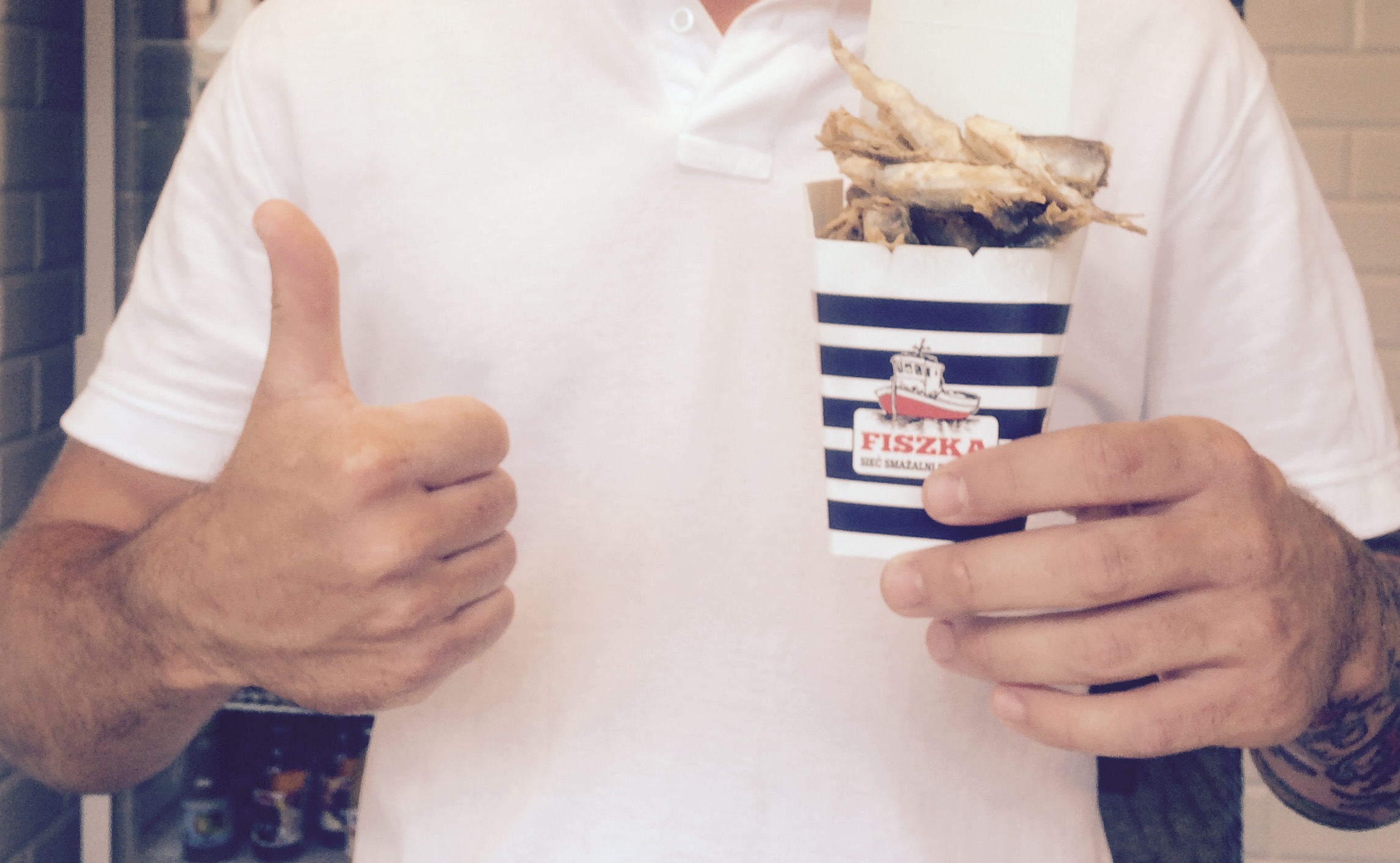 We stumbled across this new Plac Nowy hut after admittedly several shots of vodka, which only added to our joy in this new discovery. Although Krakow is awash with herring and trout, it's been sadly lacking in good old-fashioned deep fried fish. After adventures in neighbouring Lithuania, we had long been craving the satisfaction of some crunchy little sprats alongside our beer.
A common theme among these new places seems to be filling gaps in the market while they fill the gaps in our tummies and clearly, Fiszka is no exception. The menu is short and sweet with small (9zl) or big (12zl) portions of spratz served in cute little popcorn-like boxes, chips, several choices of dip, lemon & standard meal sets.
Quite unexpectedly they also serve, unknown in Krakow, bottles of Kinney (Maltese version of Pepsi), the slightly more known Kofola (Czech version of Pepsi)... and also Pepsi.
Plac Nowy 4
Comments