Krakow - the perfect vacation destination!
You've made a great choice! Krakow is exploding in popularity and it's easy to see why. Over a thousand years of history, plenty of tourist attractions, hundreds of places to stay and the highest density of pubs, clubs and bars in the world!
With all these options, it's easy to feel a bit overwhelmed. You might ask, "How do I spend my vacation? Do I explore the catacombs of kings or the hundreds of hangouts?" Well, why not do both? Sure, if you were to do this all on your own, your vacation might come and go before you get everything ready. That's why we're here.
This is the one-stop-shop for everything you need to make your Cracovian getaway perfect! Book a hotel, book a tour, book a taxi, book it to the bars - whatever you decide, this is the place to start. One visit to Cracow Life and your troubles are over! All you have to do after that is come and see the coolest city on earth for yourself...
Relax. Your search for the perfect vacation is over. You've made it to Cracow Life, the leading internet guide around here.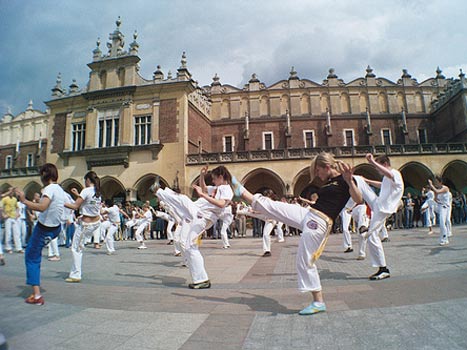 Need a place to stay?
Click here to see over 200 hotels
Click here to book your very own apartment
Click here to find a property for sale

Want to book a tour?
Click here to visit all the top spots

Need a ride from the airport?
Click here to get picked up!

Don't know where to go?
Click here for a guide to all the top spots
Click here for a zoomable, interactive map
Click here for a look at our picture gallery

Want to go out?
Click here to see over 100 bars, pubs and clubs
Click here to see over 100 restaurants
Click here for 50 fun places
Click here to see over 50 cultural hotspots
Click here to see about 100 top shops

Want more?
Click here for all the answers!
Click here to get in touch with us
Comments