Bratislava

International
A sort of couchsurfing for food lovers, Eataway is a new idea to bring home cooks and guests...
International Old Town
A few years back, George Dubya Bush managed to...
2 min read
1 comment
Bratislava Bounty
Weighing up the historic cities on the banks of the Danube, it's Vienna and Budapest that usually win the most hurrahs from the hussars. But travellers who want a break from the mighty metropolises of Central Europe will find a laid back treat in Bratislava, the capital of Slovakia. Once the coronation city of the Kings of Hungary, Bratislava is an Old World gem that's sparkling anew having thrown off the Soviet yoke. It's a beguiling city with many strings to its bow. And for travellers keen to explore some of Europe's most lyrical landscapes, the city provides a glorious gateway to the Carpathians and beyond. Call us biased - but you'd be hard-pushed to find a more pleasant bunch than the Slovaks. But first things first - click onwards for tips on all the top places to try in Bratislava, including bars, restaurants, hotels, shops and places to have fun.
Bratislava Life is aiming to lasso as much handy info as we can ladle into this olive green portal. To kick things off, there's a nifty news section, travel tips and plenty of background info about the state of Slovakia. We're also armed with handy tips on culture as well as a beginners guide to the Slovakian language.
Whether you're counting down the days to your departure or you're already in town, we're here to help you zoom in on all that's best about Bratislava. We do our best to keep the information thorough and up-to-the-minute. And if there's something you can't find, please contact us!
Last but not least, if you're embarking on an epic tour of Central Europe - think Hannibal but without the elephants - don't forget our friends in Vienna, Prague, Krakow, Vilnius and Budapest.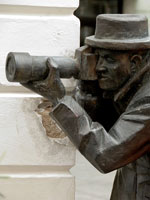 The prospect of chill winds blowing may have some of us feeling a tad melancholic. But never fear. Here in Bratislava there's plenty in the pipeline to keep you inspired, no matter what Mother Nature is up to. The Bratislava International Film Festival is set to roll out the red carpet in the first week of December. Then there's Christmas and New Year to enjoy. Besides all the Christmas Market capers, Bratislava will erupt on 31st December - don't miss it!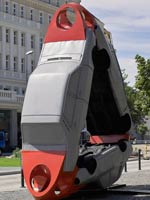 Quicklinks