The Blood Countess
"If you cannot get rid of the family skeleton, you may as well make it dance."
So spoke George Bernard Shaw. But in the case of Elizabeth Bathory, one can't help feeling that his words would have been of small comfort to the next of kin. So vile were the Countess's crimes that her relatives must have feared that the family name would be eternally blackened. Indeed, it's said that after her death it was forbidden to mention the Countess's name in Hungarian society. But even if that were so, there was little the family could do to prevent her ghost from leaping into a dance macabre of preposterous proportions.
Pretty much every slander imaginable has been thrown at 'The Blood Countess'. The milder accusations are that she engaged in abduction, torture, witchcraft and sexual perversion. The harsher ones claim that she mutilated young girls and bathed in their blood (apparently believing that it would preserve her beauty). They're not the kinds of things that you'd want to read over the breakfast table. Conservative estimates suggest that Bathory was responsible for the deaths of fifty girls, although some witnesses claimed that her victims ran into the hundreds. Several accomplices were involved, including one of the most unpleasant dwarves to have emerged from the pages of history, a highly unsavoury character named Ficko.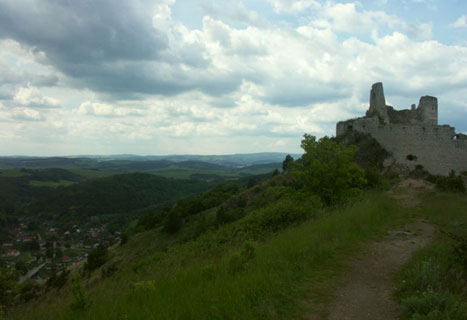 Above: The ruins of Castle Cachtice in northern Slovakia. It was here that Bathory committed many of her crimes, and where she was eventually arrested on December 29th, 1610
Unsurprisingly, the basics of the Bathory tale have provided plenty of fodder for chroniclers and balladeers. The bloody Bathory myth has had several centuries to snowball as it rolled down the Slovakian slopes into the Western imagination. Indeed, it's perhaps only those not so charming chaps Ivan the Terrible and Vlad the Impaler who can rival the Countess in the East European villain stakes. A favourite of the Hammer House of Horror, Bathory has inspired dozens of movies of dubious merit, and in 2007, two more producers threw their hats into the ring. In light of all this gothic embroidery, the job of separating fact from fiction is a fairly hefty one.
The Life of Elizabeth Bathory
Elizabeth Bathory (Erzebet Bathory) was born in August 1560 into one of the grandest Hungarian families. Owing to defeat at the hands of the Turks forty years earlier, Hungary had been absorbed into the Ottoman and Habsburg Empires. Nevertheless, Hungarian Transylvania clung on to independence, and one branch of the Bathorys managed to secure the throne of that land. Later, in 1572, Stefan Bathory was elected King of Poland.
Elizabeth Bathory was technically a subject of the Habsburg crown. Her family lands, dotted across today's Slovakia, were part of the 'Kingdom of Hungary' that was absorbed by the Habsburgs in 1536. That said, families of her stature could pretty much do as they wished provided that they were not overtly disloyal to the crown. This partly explains why the authorities were so slow to investigate Bathory's crimes.
The young Countess was educated to be conversant in many languages. However, childhood was not a drawn out affair. Bathory was married off young, as was the custom, to a nobleman named Ferenc Nadasdy. Her main home then became Cachtice Castle, about 100 kilometres northeast of Bratislava. She was 15 at the time. Three years later Bathory's husband was proclaimed Chief Commander of the Hungarian troops, and he had to spend much of his time campaigning against the Turk. This gave the Countess a free rein - effectively she was answerable to no one for miles around.
Can anything vaguely normal be said about 'the Blood Countess' before the catalogue of criminality is rolled out? Well, she did manage to give birth to a son, Paul, and three daughters, who as far as we know, were not deranged serial killers. And letters reveal that she used her power to intervene on behalf of Hungarian war widows who had fallen into dire straits. However, it's unlikely that St. Peter would consider such acts redeeming in the light of the charges laid against her.
Witnesses testified that Bathory's favourite ruse was letting it be known that work was on offer. For miles around, most of the village dwellers were her own personal serfs with little in the way of rights. However, for a Slovakian peasant girl, the offer of work at a castle was nothing to be sniffed at. The Countess had properties dotted about Hungary and Austria, and she often travelled to Vienna and elsewhere. It was similar to entering service in a princess's court. (However, court witnesses later revealed that Bathory killed women just about anywhere and everywhere, regardless of where she was headed).
Historians claim that the Countess got embroiled with a host of sinister characters. The kinds of women that might have been burnt as witches by other nobles were especially sought after by Bathory. It has been suggested that the Countess had a relationship with one of these witches, a woman by the name of Darvula, who is said to have helped commit the crimes.
Official complaints started to come in in 1602 when the Lutheran priest Istvan Magyari lodged papers in Vienna. Two years later the Countess's husband died while away on campaign - reports vary as to whether he fell in battle, was assassinated or died from a disease picked up from a prostitute. Whatever it was, the complaints continued grow against Elizabeth Bathory in the following years.
After about eight years of turning a blind eye, an investigation was launched. This followed much toing and froing between Bathory's extended family, who were desperate to avoid being tarnished by such a twisted brush. It seems that the decisive factor was that well-born girls had begun to fall victim to the Countess. Bathory had set up a sort of finishing school for the daughters of the lesser gentry, teaching them courtly etiquette. When well-born ladies started to go amiss, time was up for Bathory.
On December 29th 1610, Count Gyorgy Thurzo burst into Cachtice Castle following an order to investigate from King Mathias himself. Two slain women were tracked down and several more were relieved, gaining what was a belated, but no doubt the best Christmas present they'd ever had. Bathory herself was arrested, along with several accomplices.
Trial and Demise
Comments