Pack Your Bags For Partyslava!
Like any European capital worth its salt, Bratislava knows how to party. Club connoisseurs needn't fear that they're stumbling into a nightlife backwater, where the 'action' consists of a smattering of rundown bars playing folk music to monolingual locals as they get stewed on plum vodka. No no, quite the opposite! Bratislava's reputation as a hip and happening clubbing destination precedes itself, and has long been a major draw for the likes of the Austrians (many of whom like to pop across the border from Vienna) and, of course, the all-conquering British stag party (don't worry they're easy to avoid if you want to!), amongst many others.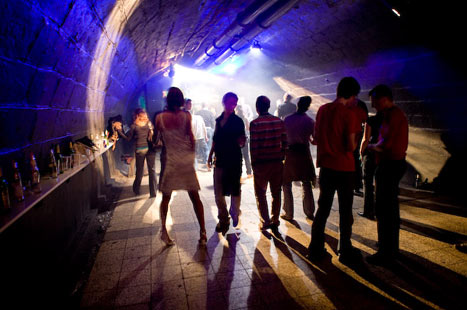 Nightlife in Bratislava normally begins in the city's pubs and cafes, which in the summer pour forth tables and chairs onto every inch of street offering punters the chance for a very enjoyable pint in the sun. Come colder months, follow your nose down dark alleyways and into courtyards of the Old Town to discover some of the better joints Bratislava has to offer.
For the lowest common denominator of drinking den head to The Dubliner Irish Pub. Ok there are no prizes for originality, but its a good place to meet people, watch sport and slowly ease into the night. For something a little more 'local' try the Slang Pub. This popular watering hole attracts a good mix of Slovaks and expats of all nationalities. If neither of those tickle your fancy a whole range of bars and cafes populate Obchodna street, so you're bound to find a decent place to sink a Saris or two. Better still head to the Novy Most (New Bridge) to sink a cocktail at symbol-of-the-city (how often can you say that about a bar?) UFO restaurant/club.
Once suitably lubed up, the more vivacious travellers will no doubt be keen to locate some nightclubs to show off their best Justin Timberlake impressions... Bratislava offers scores of options. The most popular, if not the most sophisticated, on the nightlife scene is undoubtedly Circus Barok. A two-storied boat on the river Danube plays host to various degrees of debauchery, and it's fair to say that plenty of punters look decidedly seasick by the time the night's over. On the other end of the spectrum is the trendy Trafo Club. Pretentious yes, but still a good night out, with decent commercial dance and hip-hop presiding over a crowd of the good and the great. True clubbers of course will want sidestep the rest and make a bee-line for nightlife legend that is Subclub. Bring your earplugs for a night out in a nuclear bunker...
Needless to say there are many more options out there. If you manage to hunt down something that you think warrants inclusion, just let us know and we'll put on our fanciest clubbing pants and go check it out.
Comments