Travelling to Wroclaw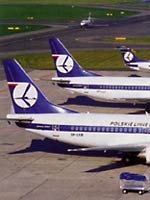 Above: LOT has lots of flights in Poland, he he


Below: Why fly when you can Dr. Zhivago it up?
By air
Wroclaw has its own international airport on Strachowice (Wroclaw, ul Skarzynskiego 36), roughly 12km from the city centre. It's a bit smaller than those in other Polish cities, but functional nonetheless. It will be rebuilt soon as the new terminal is on the way! From here you can get to Warsaw, Alicante, Barcelona, Bolon, Burgas (from 2010.06.12), Bristol, Brussels, Cork, Doncaster Sheffield, Dortmund, Dublin, Dsseldorf, Dsseldorf Weeze, East Midlands, Eindhoven, Forli, Frankfurt Hahn, Frankfurt am Main, Glasgow, Liverpool, London, Malaga (from 2010.06.25), Milan, Munich, Oslo, Paris, Rome, Shannon. Many of these routes have been added recently courtesy of Ryanair, Wizzair and other budget airlines, and the chances are more hot destinations will follow!
By rail
OK, so Polish trains aren't exactly the fastest or most modern the world has ever seen. For many, however, arriving by rail is always the way to go... See the world fly by in a relatively quick express train or take in the country air during a cruise on a regular train (even though you could probably run faster!). An intercity train to Warsaw, for example, will only take you at least five hours and one to Krakow around four and half. Poznan at least is a relatively easy jaunt of two and half hours. Of course, Poland is not where it all stops: Budapest, Dresden, Hamburg and Prague are all just a few stops away... Find the Dworzec Glowny (Main Train Station) in the south of town on ulica Pilsudskiego. Check our map online for precise location!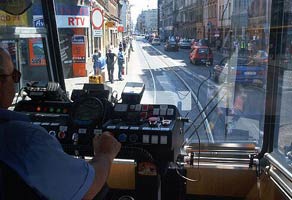 By bus
Maybe the thought of spending a whole day on a bus is not exactly high on your list. Just remember one thing: this is about as cheap as it gets! Yeah, sometimes you can find some great deals with discount airlines (if you buy thirty years in advance, with no guarantee... or something), but buses provide a steady, affordable alternative. And if you're a big fan of movies dubbed-over in Polish then this is certainly the option for you! Private coach companies will gladly take you to Prague or just about anywhere in neighbouring Germany (and beyond). For domestic routes, just look for three letters: PKS. Find the bus station at the back of the Main Train Station.
By car
Wroclaw is very well connected, at least by Polish standards. Three international roads cut through this fair city, the greatest of which is dubbed the A4, meaning you can cruise at top speed in either direction - towards Germany or over towards Krakow in Malopolska. Having said that, the reality of driving in Poland is a little less rosy. This country still has the highest accident rate in all of Europe and most of the smaller roads are fit only for SUVs. All the same, if you like being in control (and having an adventure!) then this is the way for you.
Comments