Wroclaw Nightlife
It's difficult to mention Wroclaw and not go on to mention the word nightlife in the same breath. The city is quickly enhancing its already solid reputation as a party town and easily has enough pubs and clubs to cater for a city twice its size. Perhaps this isn't so surprising when you consider that this is a place revelling in its status as a boom town on the frontiers of New Europe, and that those with a share in the wealth seem as keen as any to "liquidize their assets" at the nearest watering-hole. On top of these hard-working professionals, for two thirds of the year Wroclaw is home to over 130,000 freeloaders, we mean students, and you don't need to be Einstein to calculate the net result of so many idle youngsters living in a place with so many bars!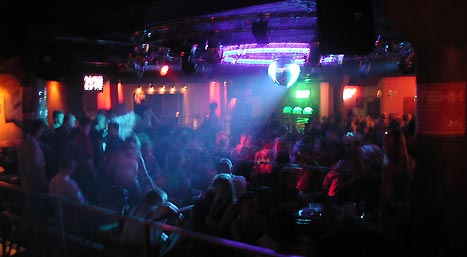 In fact having fun is such an important part of the mentality here in Wroclaw that even the beautifully-restored Market Place (or "Rynek") seems at times less of a important cultural centre and more of an enormous shrine to drinking - particularly in summer when the lure of an afternoon beer in the sun has waylaid many a local and tourist alike from whatever it is they were supposed to be doing. But then who can blame them - there are few better places in the world to soak up some atmosphere and indulge in a bit of people-watching! You might try Casa de la Musica, Bernard Pub, or Pod Papugami
But the Market Square isn't about bars alone. As day fades into night, and the doddering German tourists head back to their hotels, armies of girls in short skirts and boob tubes suddenly appear from nowhere, all tarted up and ready to flaunt their assets in the many cheesy hangouts around the Square. If this is your idea of heaven then Jazzda Club, Disco Club Regeneracja and Novocaina Club will definitely float your boat, but there are many more similar places besides so ask around. Alternatively you could just follow your instincts and see where they lead you... For "your instincts" please read "girls with the nicest legs": Le Secret.
If the Market Square provides Wroclaw with its premier nightlife spot then Pasaz Niepolda (address 51 Ruska street) can't be too far behind. Just five minutes walk west of the Rynek this small, open courtyard is a favourite assembly point for Wroclaw's young hedonists. No wonder: there are over half a dozen pub/clubs to explore in this tiny area and you could be forgiven for thinking you had accidentally been transported onto the strip of a Spanish island resort - there is even a hole-in-the-wall kebab joint! Perhaps what makes this place a little more special than the Costa Del Sol's finest is the sheer variety of the venues on offer, with classic student bars like Niebo, parked alongside lively music-pubs such as Kamfora or Wlodkowica 21. The clubs vary too, from the ultra-commercial dance and techno-fest of Mundo 71 Music Club to the more underground Bezsennosc. And just as the venues are varied, so are the people they cater for. Expect a mix of dread-locked space-cadets, lager boys and tarty girls zig-zagging their way to the next pint-stop.
When the beer-monsters and unbridled hedonism around the Rynek and Pasaz Niepolda all prove too much for those ageing sophisticats amongst you, fear not - there are alternatives! Whilst you're not exactly spoiled for choice, the city does have one or two very viable options for the more discerning nightlife critic. Foremost is surely the ultra-hip and yet totally unpretentious Caf Manana or Il Gusto Club. The party never stops here and you won't find a friendlier crowd anywhere in Poland. Another strong runners in the race for Wroclaw's number one spot are, Graciarnia Pub, Od zmierzchu do switu and Schody Donikad with a charming view on the Solny Square summertime. Tequila fans will love Salvador Club and The Mexican. On top of the aforementioned are also a number of kooky and individual bars (often designed around a theme) that showcase Wroclaw's creative flair. Why not check out one of Mleczarnia, Mostownia Pub or the communist-inspired Klubo Kawiarnia PRL for unique drinking experiences.
So then, as you can see, Wroclaw has enough nightlife to cater for even the most debauched weekend away, and whereas a few too many of the city's clubs are a bit more Blue Orchid, Croydon than Space, Ibiza, with new and better places opening regularly you sense it's only a matter of time before Wroclaw rises to the challenges set by Warsaw and Krakow to become a true contender for the best nightlife in Poland.
Needless to say we have only been able to give a small flavour of what Wroclaw has to offer here, so please check out our pub and club directory to find out more; and if you've been to any of the places that we list then make sure you keep us and our users informed by posting a review. How else can we achieve our objective of being the number one source for nightlife in Wroclaw, except with your help?
Comments