Wroclaw Festivals – Glastonwhat?
Sometimes it seems that everyday is a holiday in Wroclaw, and never more so than when one of the city's many festivals is taking place - and the town is buzzing with that extra bit of vitality! Despite it's small size, Wroclaw loves to throw on a big event and the Wroclaw festivals play an integral part in defining the city's character as a vibrant centre of culture, a cosmopolitan meeting point and above all as simply a great place to relax and unwind.
Many of Wroclaw's more established events have been running for in excess of 40 years, but organisers and the local municipality aren't content to sit on their festival laurels - it seems that new events are being showcased every year, so that in recent years renowned classics such as the Wratislawia Cantans and Jazz on the Odra have been held alongside newcomers such as Wroclaw NonStop and the W-Parade. All of which means of course that more and more people from all around Europe and beyond are discovering Wroclaw and the many charms and distractions it has to offer - without having to go anywhere near a muddy field!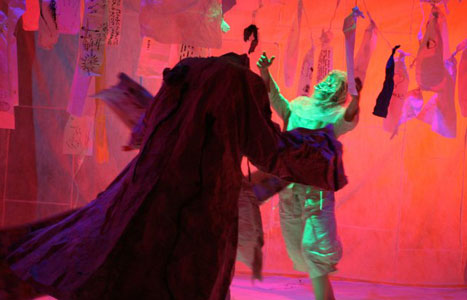 Below is a brief run down of some of the main players on the Wroclaw festival circuit!
The Festival of Polish Contemporary Music (February)
Commonly referred to by its Latin name 'Musica Polonica Nova', the Festival of Polish Contemporary Music is a biannual event which was first conceived back in 1962 to promote the newest in classical music (- if that isn't a contradiction in terms?). The festival features many different presentations of music, from traditional "tuxedo" concerts and meetings with composers, to quasi-theatrical forms and performances that take place in Wroclaw galleries and often spill out into the city's streets. The last event took part in February 2006 so get your calculators out…the next event takes place in February 2008!
Port Wroclaw Literature Festival (Spring)
Now in its 10th year the Port Wroclaw Literature Festival takes place over a number of weeks in early spring. During these weeks you will find a rigorous schedule drawn up of seminars, forums and discussion groups with many of the poets and authors themselves invited to present and answer questions on their work. Check out biuroliterackie.pl for more information in Polish.
Jazz on the Odra (Spring)
A Wroclaw classic, the Jazz on the Odra Festival is a three-day event that takes place each spring in the 'Impart' Arts Centre building - situated, funnily enough, just by the Odra. Established way back in 1964, Jazz on the Odra remains a firm favourite on the festival circuit, as enthusiasts are treated to showcases of both famous and up-and-coming music maestros. Click here for more details.
Review of Actor's Songs (Spring)
Also known as the Festival of Actor's Songs and the Review of Stage Songs, depending on the translation, this event takes place every year in spring and is billed as Poland's oldest 'acting' festival. In fact there are a mix of a acting recitals, stage performances, cabaret and song, and artists as famous as Nick Cave have contributed to the discussions on the difficult art of song interpretation. Check out the website for more info.
Wroclaw Non-Stop (June/July)
Arguably the most ambitious and exciting of all Wroclaw's festivals, the NonStop Festival takes place over ten days in June and July supporting over a hundred different cultural events. Everything from urban survival camps to Portuguese folk music can be expected on what is a reliably extensive programme of performances and activities. Check out our full rundown of Wroclaw NonStop 2006 where you'll also find a link to the official NonStop website.
Era New Horizons Film Festival (July)
Argubly Poland's most exciting film festival, this event has established itself at the forefront of exposing cutting edge international and home-grown movies. What's more Wroclaw has some excellent cinemas in which to host the screenings. See our page on Wroclaw Film Festival for more info!
International Festival of Organ and Chamber Music (Summer)
Sometimes translated as the The Wroclaw Organ Summer, this festival is not a festival in the tents and cider sense of the word, but rather a series of organ performances that take place every Sunday throughout the course of the summer in some of Wroclaw's finest churches. The best talents from Poland and abroad are invited to play.
Buskerbus (August/September)
Buskerbus is an oddball experiment of street theatre and music, run very much in the spirit of fun, humour and entertainment. It takes place in June or July each year when the pavements of Wroclaw are the stage for both Polish and foreign musicians, circus performers, mimes, dancers, acrobats and many other entertainers besides. The official website is now ready!
Wratislavia Cantans (September)
The most famous of the Wroclaw Festivals, the Wratislavia Cantans comes to town in September of every year. It was established in 1966 as a 'festival of oratory and cantatas' and since 1978 has enjoyed membership of the prestigious European Festival Association (the only festival in Poland to do so!). Its high profile means that it attracts around 25,000 people every year to listen to performances of choirs, orchestras and soloists from around the world, hosted in Wroclaw's most beautiful and historic buildings. In total over fifty diverse cultural events took place in 2005 as part of the festival, and not just in the field of song but films, lectures and exhibitions also form part of the programme. Check out the official Wratislavia Cantans website for more info in Polish, English or German.
Dialog Festival - International Theatre Festival (October)
Another bi-annual affair, the Dialog made its third outing in October 2005, with the fourth scheduled in for October 2007. Productions from across Europe are invited to perform, and each edition of the festival presents a specific theme to be discussed. Keep an eye on the official website for specific details and venues.
Wroclaw Guitar Festival (November)
The Wroclaw Guitar Festival is organised by the Wroclaw Guitar Society and you can rely on them to track down and invite the best new and established talent from home and abroad. Apart from the concerts, there are lectures and masters' lessons. Click here for a programme.
One-Actor Theatre Performances (November)
The Wroclaw Meeting of One-Actor Theatre and Small Theatrical Forms takes part in November of each year. The festival has been organised since 1976 and presents the best Polish plays of this very specialist art. The performances and monodramas are often performed by renowned people in the world of Polish theatre and discussion groups and meetings are all part of the fun. The official website now has texts in German - but English is still pending!
OFFensiva: International Film Festival (Various)
Bored of formulaic Hollywood pap? Want to be stimulated and challenged? Well the OFFensiva Film Festival may be right up your street. Its mission statement is to support young independent film-makers from around the world to express themselves without those irritating constraints of commercialisation. So don't miss the chance to see aspiring Winterbottoms and Kubricks competing for the coveted Golden OFF award! Email info@OFFensiva.pl for more info.
Comments