Getting around Wroclaw
Above: They even go south of the river in Wroclaw! Below: Take care! These are considered optional by many Polish drivers...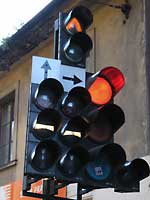 By taxi
Fancy an adventure in Polish culture? Do you like rally racing? Well, then travelling by taxi is your best bet! Polish cabbies are known for their aggressive - but effective - driving as well as their eagerness to share opinions on just about anything. How's the government doing? What's the weather going to be like in a year? Should you invest in bonds? The taxi driver will have all the answers to these important questions. Moreover, he'll probably share them with you whether or not you ask... Remember to call for a cab instead of snagging one from the ranks. The call is usually free and you'll save anywhere from 5-30% on your fare.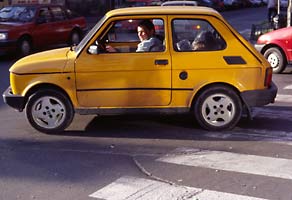 By car
Once again, this is an option for the adventurous... Polish roads are decent at best and Polish drivers in general share some of the aforementioned cabbie characteristics. Add to that some unusually complicated road signs and strict limitations on traffic within Old Town areas, and you've got yourself a potential headache. All in all, it's probably better to take advantage of the surprisingly good public transport. If you do decide to take your own wheels, however, remember that most parking spots in and around the centre are not free. Get a parking pass from a kiosk or from the automated machines which dot the street.

By public transport
Every major city in Poland has a quite good public transportation system. In Wroclaw, you'll have no problem getting to your destination on a train, tram or bus. Tickets will cost you anywhere from 1.25-3PLN, depending on whether you're travelling during the day or night, taking an express or buying a discounted ticket (students, seniors, etc.). Anticipating a slightly longer stay? Take advantage of the 1, 5, 10, 30, 60 or 90-day passes available. Buy your tickets at one of the many kiosks around town or at one of the handy automated ticket machines.
Comments