Cheap Flights to Warsaw
While getting to Warsaw by train seems like the most romantic option, let's face it, if you're coming from London for the weekend the best option is a cheap flight from one of the many budget airlines offering connections to Warsaw. But with the range of budget airlines in Europe, how do you know which one will get you to Warsaw from your city? Luckily, we've compiled a comprehensive list below of direct routes to Warsaw. Keep in mind however that while we try to keep our information as accurate and up to date as possible, flights change pretty regularly so it's best to check with the actual airline before making any plans. And of course, if you find any errors in our flight lists or have any other suggestions, please let us know, we appreciate hearing from you!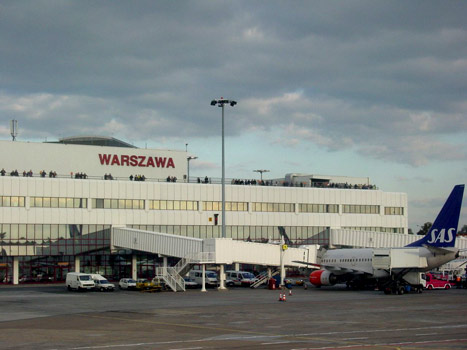 &languageAbove: Warsaw's Frederic Chopin Airport
Belgium
Brussels South-Charleroi -
Wizz Air

Bulgaria
Burgas -
Wizz Air
(seasonal),
Norwegian
(begins 2 June)

Croatia
Dubrovnik - Norwegian (seasonal)

Split - Norwegian (seasonal)

Finland
Turku - Wizz Air

France
Paris-Beauvais - Wizz Air

Germany
Cologne/Bonn - Germanwings

Dortmund - Wizz Air

Greece
Athens - Norwegian (seasonal)

Corfu - Wizz Air (seasonal)

Ireland
Cork - Wizz Air

Dublin - Aer Lingus

Italy
Forl /Bologna - Wizz Air

Milan-Orio al Serio - Wizz Air

Rome-Fiumicino - Wizz Air

Varna - Norwegian (begins 7 June)

Venice-Treviso - Wizz Air

The Netherlands
Eindhoven - Wizz Air

Norway
Bergen - Norwegian

Oslo-Gardermoen - Norwegian

Oslo-Sandefjord Torp - Wizz Air

Stavanger - Norwegian

Spain
Alicante - Norwegian

Barcelona - Wizz Air

Madrid - Wizz Air

Malaga - Norwegian

Palma de Mallorca - Norwegian

Sweden
Gothenburg - Wizz Air

Malm Sturup - Wizz Air

Stockholm-Skavsta - Wizz Air

Switzerland
Basel - Swiss

Zurich - Swiss

United Kingdom
Bristol - Wizz Air (begins 19 September)
Doncaster-Sheffield - Wizz Air
Glasgow-Prestwick - Wizz Air
Liverpool - Wizz Air

London-Luton - Wizz Air





Above are the current direct connections to Warsaw, but remember, if you can't find the flight you're looking for, Krakow is just under three hours by train, and many major airlines and most budget carriers service Krakow or Katowice airports. So take a look at our Cheap Flights Krakow page and find your connection!