The Year of Joseph Conrad has Begun!
Festivities at Warsaw's Royal Castle started off the "Year of Joseph Conrad" in Poland, led by honorary master of ceremonies President Lech Kaczynski. The Polish author of such classics as Heart of Darkness and Lord Jim was born exactly 150 years ago, on 3 December 1857. The anniversary of Conrad's birth has even managed to make it into UNESCO's calendar.
Though Conrad wrote in English and is generally classified under British literature, the writer was born Teodor Jozef Konrad Korzeniowski in Berdyczow, Poland (now Berdychiv, Ukraine), and lived both in Krakow and Warsaw, including in the house at 47 Nowy Swiat pictured below.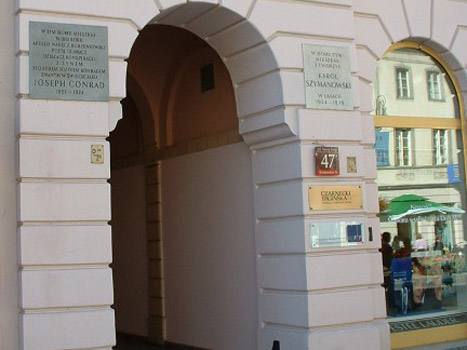 Conrad's roots are distinctly Polish: he was born to a Polish noble family, and a highly patriotic one at that; so much so that his father, a patriotic writer and translator, participated in organizing the January Uprising of 1863-64, an act for which he was arrested for in 1861 by the Russian authorities. His parents were sent to Siberia, where his mother died and his father became ill, eventually dying in Krakow and leaving young Joseph an orphan at age eleven.
After living under the care of his uncle in Krakow for several years, Joseph decided to pursue a life at sea. Party to escape conscription into the Tsarist army, partly to satisfy his adventurous personality, Conrad left for France at age 16 and became a seaman. His voyages would soon take him all over the world, and would become the settings for many of his stories. Ever the adventurer, he was even involved with gunrunning and smuggling for a time and acquired a gambling debt that almost ended his life. After he lost his position with the French merchants, he began to sail with the British Merchant Marine.
After earning his Master's certificate in the British Merchant Service in 1886, Conrad received British citizenship and officially changed his name. It was with the British that Conrad journeyed to the Congo, the setting of his most famous work, Heart of Darkness. Conrad began formally writing in the 1890s, when his poor health confined him to a land-locked existence. He settled in Kent in England and published his first novel, Almayer's Folly, in 1895. In 1896 he married, and the settled life meant that Conrad was retired and earnestly writing, and he began publishing regularly. Conrad continued to publish until his death, earning some recognition throughout his life, but mostly after his death. In 1924, he died in England of a heart attack, and was buried at Canterbury Cemetery under his birth name.
Conrad's fiction has been categorized as "romantic," though his irony and self-deception throw some of his works into early modernism. His novels also bear an existentialist vein, firmly placing man's responsibility in his own hands. Today, his works are widely read and translated, and one can hope that the "Year of Joseph Conrad" in Warsaw will bring his often dark yet insightful writing to an ever-wider audience.
Significantly, several of Conrad's prose works were transformed to the silver screen, most famously Francis Ford Coppola's "Apocalypse Now," which was based on Heart of Darkness; Polish director Andzej Wajda directed a film version of The Shadow Line in 1976, which, though completely in English, is sadly unknown to English audiences.
Comments