Language Tips!
There's no getting away from it - Polish is a tough language, any early attempts at which will have you sounding like you're whispering, gargling and choking simultaneously. Many Poles, particularly the younger ones, speak a little English, but that's no excuse not to learn at least a few of those tortuous tongue-twisters, so we've included. at the bottom of this page, a brief guide to get you started.
For those who wish to get more involved, there are a host of excellent language schools in Poznan, many of them providing translation services, which may be necessary if you plan to stay any length of time in the area.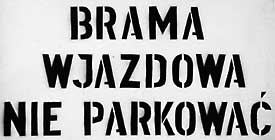 There are a whole range of Polish words which look pretty similar to their English equivalents, so signs such as POLICJA, RESTAURACJA, HOTEL and TAXI are hardly going to tax most travellers, but here are a handful of others that may be useful: Kawiarnia - Cafe
Herbaciarnia - Tea House
Ksiegarnia - Book Shop
Mieso - Butchery
Nabial - Dairy products
Sklep - Shop
Prasa - Newsagent
Dworzec - Station
Lotnisko - Airport

There are a couple of minor regional differences in language for the Poznanians which are confusing even for Poles from other cities. For example, the Polish word for potato is 'ziemniak' but in Poznan it is often called 'pyra'. Therefore, Poznanians are known as 'Poznan Potatoes'. Another word exclusively used here is 'tej', pronounced 'tay'. Asking a local what it means invites a few suggestions but the general is that it means something like 'you know' and it usually appears at the end of a sentence.
Comments