Money advice - Poznan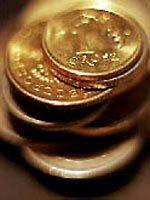 Use not as widespread as Western Europe, but rapidly gaining popularity. Some hotels and shops are switching to plastic now so look out for the relevant signs in doors and windows. As before, cash is the key.
Carrying a debit or credit card on you at home is the norm and it's fine to do this in Poznan but cash is what talks loudest around here. Try to have a nice selection of coins and some smaller denominations of banknotes in your pocket as you can expect cash registers in some places to be unable to split a 20PLN note.
ATMS (Cash Machines)
There are plenty of ATM machines around the city which accept cards from all over the place. Of course the charges for using these machines may startle you when you see your next statement but it's really no better or worse than anywhere else in Europe. Like anywhere in the world be careful when using an ATM.
Cheques
Cheque book use is virtually non-existent. Leave it at home.
Bureaux de Change (Kantor)
Currency can be changed at banks, airports, hotels and kantors. Rates will vary from place to place so shop around for the best one. Some kantors will take advantage of the unsuspecting tourist.
Comments