Getting around Poznan
Above: Fancy a near death experience? Below: Mean green machine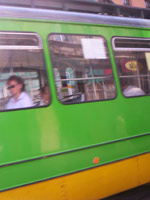 By public transportation
The public transport system in and around Poznan is well organised and extremely handy. Trams run from around six in the morning until eleven at night plus some night services. Buses are about the same. Tickets are based on the time of the journey and are cheap as well. One UK pound would buy over 90 minutes of travel!
Bus and tram stops are all around the city and run from every five minutes to once every hour. To make travel easier make sure you know the name of the stop you are travelling to and where from.
By taxi
Taxis are in abundance in the city centre and you can always pick one up quite easily.
It is better if you can find a reputable firm who will not charge extortionate prices. Like all cities there are sharks waiting for the unknowing foreigner and charging 60PLN when the journey should be 20PLN.
Try to avoid cabs with the small 'taxi' signs on top. Maybe they're not all bad but the general view is that they overcharge. Try cabs with the larger signs on the roof which also bear a four digit phone number. These firms should accept a code so if you're stopping at a hotel then ask if they have a code for their cab firm.
Also, avoid bootleg taxis as you never know where they will take you or how much they will charge. Common sense is key.
Whatever taxi you end up in, prepare for some Schumacher-esque manoeuvres as you race towards your destination!
Comments
Tram is the best way of getting about - fast, frequent and cheap. Buy tickets from kiosks(Ruch)or some hotels.You used to get 11 for the price of 10 - I don't know if you still do. Buses use different tickets - a bit more expensive I believe. But Poznan is one of my favourite cities and I go back every year - don't forget the steam hauled trains to Wolsztyn!
Reply
I neither speak nor write in Polish but desire to visit the area where my ancestors live from parish of Objezierze just south of Oborniki, 64-60 Objezierze 5. What publis transport woild I need from the main train/bus station?
Reply