Best Places 2015: And the Plaque Goes To...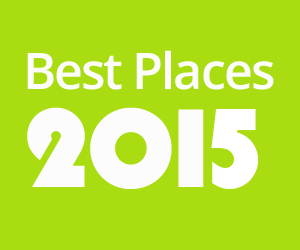 Had a good night's sleep in a cosy, homelike hotel? Or the tastiest and most romantic dinner ever? Or maybe the best pub crawl of your life? Now is the time to say thanks to the people who were behind this fantastic time, and to recommend the outstanding businesses to others.
This year marks the jubilee, tenth edition of Local Life's Best Places! What has been our motivation behind these accolades? It's not exactly rocket science: to reward and encourage top products, services and ideas. As a barometer of all that goes on in the city, we at Local Life Krakow feel it's our responsibility to point our readers in the direction of the very best Krakow has to offer. For a decade now, our bright green and white stickers and the 'Best Place' plaque have been a sure recommendation to just the right place to eat, sleep, party or enjoy local culture.
This year was no different than the previous nine: we received a flood of votes, and the competition was fierce. It was really a tough task to decide on the sole winners, the creme de la creme. But here they are! Ladies and gentlemen, we present to you the winners of the ninth edition of Local Life Best Place awards!
Restaurants:
Curry up
Kanton Dim Sum House
Dwa Smaki
Twój Kucharz
Pod Baranem
Dynia Resto Bar
Meho Cafe Bar & Garden
Cafe Oranżeria-Percheron Rest.
Hotels:
Kossak
Hotel Senacki
Globtroter
RT Hotel Regent
Hotel Galicja
Entertainment:
Paintball Krakow
Bowling Alley Wilga Hotel
WRT Karting-inddor track
Avatar Climbing Centre
Laserpark
Pubs&Cafes:
BARaWINO
Multi Qlti Tap Bar
Tajemniczy Ogród Kazimierz
Karma
Lipowa 6F/Krako Slow Wines
Frantic
Irish Pub Pod Papugami
Pasaż
Services:
Ambra Day Spa
Fitness Młyn
Chaiyo Therapy Center
Rock'n'Ink Tattoo & Piercing
Butter Cut Krakow
Culture:
Ethnographic Museum
Cheder Cafe
Oskar Schindler's Factory
Capella Cracoviensis
Bunkier Sztuki
Shops:
e-herbata
Idea Fix
Rzeczy Same
As You Like It Bookshop
Jawa Coffee Roaster's
CONGRATULATIONS!
Comments