10 Best Places in Cracow 2006
The stones have been cast, the votes have been counted, the public have spoken - and been heard - and our expert panel of staff have lent credibility to democratic opinion. Yes it has been a long process, with much deliberation, but Cracow Life is finally ready to reveal - in the categories of Eat, Sleep, Drink, Shop and Culture - our Ten Best Places in Cracow awards for 2006.
What is the inspiration behind these accolades? The answer is simply: to reward excellence. Excellent products, excellent service and excellent ideas. As a barometer of all that goes on in the city, we at Cracow-life.com feel it's our responsibility to point our readers in the direction of the very best Krakow has to offer. In other words to point people towards those places which time and time again have offered superb experiences to everyone that has eaten, slept, drank and shopped at them. With our Ten Best recommendations we are giving visible recognition to those businesses. Just look out for our bright green and white stickers saying 'Best Place 2006' and you know you've found one!
This system of merit not only helps tourists and locals to find the best places in town, but Cracow Life hopes that by rewarding excellence we will also encourage excellence. Because as 2007 continues we'll be reading all the reviews placed on Cracow-life.com to ensure that this time next year we are once again in a position to tell our readers the very best places to go in Cracow...
Don't forget then to exercise your vote and place a review on Cracow Life. Simply search by the relevant category and then press the review button at the bottom of the page to add your comments.
Remember too, that at any place bearing a Ten Best Places in Cracow sticker is also a hotspot where you can pick up one of our free maps to the city.

And the winners are...
Ten Best Places to Eat
Aqua e Vino (1)
Cherubino (2)
Corleone (3)
Horai (4)
Leonardo (5)
Pod Aniolami (6)
Pod Krzyzykiem (7)
Szabla i Szklanka (8)
Szara (9)
Wierzynek (10)
Ten Best Places to Sleep
Copernicus (11)
Florian (12)
Globtroter (13)
Grodek
Maltanski
Pod Roza (14)
Pollera (15)
Polski
Saski (16)
Wentzl (17)
Ten Best Places to Drink
Alchemia
Art Club Cieplarnia (18)
Caryca (19)
Cien (20)
Golebia 3 (21)
Kitsch (19)
Le Scandale (22)
Nic Nowego (23)
Prozak (24)
Rdza (25)
Singer (26)
Ten Best Places to Shop
Boruni (27)
Empik (28)
Este Gallery of Curiosities (29)
High Fidelity Records
Lulu Living
Massolit Books
Miejsce (The Place)
Naturalny Sklepik
Przetwornia
Punkt (30)
Ten Best Places for Culture
Bunkier Sztuki (31)
Ethnographic Museum
Folia Concept Club (32)
Groteska Theatre
Galicja Museum
Kino Kijow
Manggha Centre
National Museum
Philharmonic Hall
Space Gallery (33)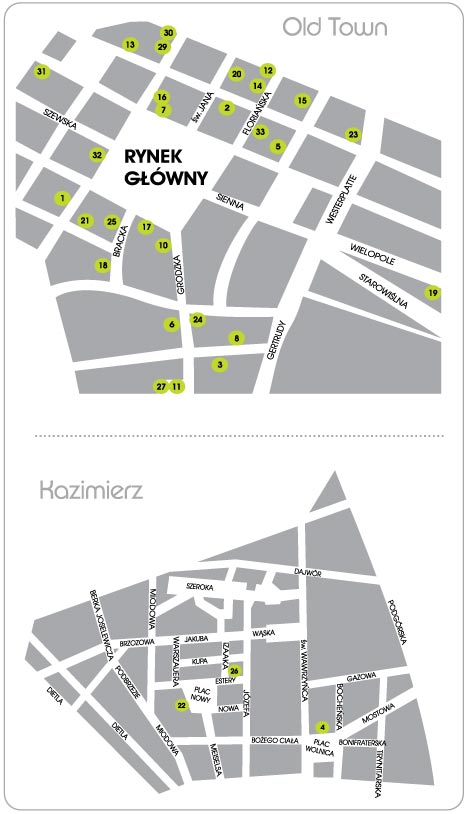 Comments