Krakow for Kids
While the scores of bars and clubs lining Krakow's streets might give the impression that Krakow is a city for adult revelries, in reality Krakow is a very kid-friendly place, with lots of businesses specially catering to children and regular special events just for the little ones. Below, we've tried to list some of the most kid-friendly places (that adults can enjoy as well) to keep your little ones happy while on holiday.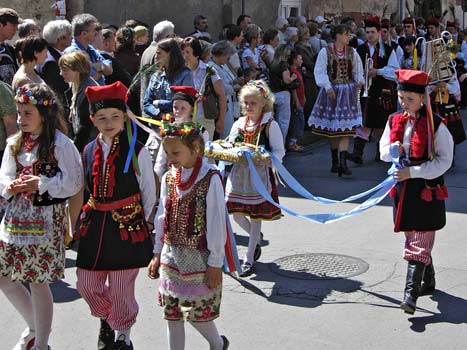 Hint: Your children will look happier than the ones above if you don't make them wear folk costumes and parade through town
Indoor activities
Wawel Castle
Wawel 5
Sure, a trip through the state rooms will seem like a yawn-fest to most kids, but afterwards you can reward them with a journey to the dragon's lair! At the foot of the castle by the Wisla, you'll find a real fire-breathing dragon that's always a hit with kids.
Transport Museum
ul. Wawrzynca 15
While spending a day at the museum might seem like a one-way ticket on boredom express to little Timmy, just wait until he gets inside the Transport Museum. This gem is a big hit with kids of all ages, with all kinds of motor vehicles on display, as well as plenty of interactive exhibits that are actually fun whilst being educational.
Groteska Theatre
ul. Skarbowa 2
Krakow's only theatre especially catering to the youngest audience, Groteska has special showings of magical plays just for kids every Sunday, as well as frequent special presentations year-round.
Oceanarium
ul. Sebastiana 9
Goldfish and seahorses and sharks, oh my! This newly-opened aquarium features a wide variety of colourful fish and sea-life for viewing.
Kino Kijow
ul. Krasinskiego 34
When the weather's bad or the kids are being especially hyperactive, sometimes a day at the movies is the only solution. Kijow hosts frequent movie showings for children, particularly on weekend mornings and afternoons.
Multikino
ul. Dobrego Pasterza 128
Multikino is generally the only movie theatre that shows children's films undubbed - so if you want to take your child to see Harry Potter or Shrek in its original version, this is the place to go.
IMAX
Al. Pokoju 44
This IMAX theatre plays a host of movies in 3D, from undersea documentaries to gigantic dinosaur adventures, as well as special 3D-screenings of new movies.
Fantasy Park
Al. Pokoju 44
One of the most modern bowling alleys on the continent is the main attraction of this park, which also features pool, air-hockey, and video arcades. A supervised play-pen is available for very young children. For the adults, there's a full bar as well.
Cracovia Football or Ice Hockey
ul. Kaluzy 1, ul. Siedleckiego 7
If your kid is into sports, why not take him or her to a match? Depending on the season, a game of football or ice hockey is an entertaining way to pass the afternoon. Buying hockey equipment and football equipment can prepare you and your childs for a trip to Krakow. Who knows, you might even end up bonding!
Krakowianka Ice Rink
ul. Siedleckiego 7
While it's hard to find outdoor activities in the winter, it is the perfect season for ice skating, and Krakow's indoor rink will guarantee that you don't freeze while your kid is practising his or her figure eights.
Wieliczka Salt Mines
Wieliczka
Just 20 minutes from Krakow, the biggest attraction in the small town of Wieliczka are the salt mines: giant underground caverns full of carvings made of salt. But this one is only for the more patient youngsters, as the tour takes two hours and goes through 2 km of underground tunnels, immense chambers, and underground lakes. It's well worth it however, and there's even a special display for children consisting of the Seven Dwarfs!
Outdoor activities
Market Square
Rynek Glowny
Kids never seem to get enough of the Market Square. Whether it's chasing pigeons (a quite unsanitary activity in our opinion), watching the many street performers in the summer, or getting some cotton candy at one of the numerous festivals that take place here year-round, you can't go wrong with taking a stroll through the Rynek.
Blonia Commons and Jordan Park
Al. 3ego Maja
Jordan Park (Park Jordanski) is located adjacent to the enormous Blonia Commons, and both locales are excellent for spending a whole day outdoors with the kids. In Jordan Park there are plenty of paths for strolling or biking, as well as several playgrounds, including a new one with a wooden castle. But the prime attraction of the park is the artificial lake with paddle boats and canoes that can be rented, and a colourful train that circles the park frequently and costs only a few zloty for a ticket.
Kryspinow Beach
Kryspinow
In the summer, there's nothing better than relaxing at the beach, making sandcastles and swimming. Luckily, there's a place where you can take your kids to the beach, and it's just outside of Krakow! Kryspinow has a playground for younger kids, beach volleyball and basketball for the older kids, as well as a swimming area that's carefully watched by lifeguards, and even a bar to occupy the adults.
The Aviation Museum
Al. Jana Pawla II 39
Another museum with big shiny machines that kids love. With over a hundred aircraft, from pre-war Polish fighter-planes to German Albatrosses, Spitfires and Soviet Kakaruzniks, all on a giant former airfield, it's sure to be a great day out.

Krakow Zoo
ul. Kasy Oszczednosci 14
An excellent zoo with a variety of animals, big and small, furry and scaly, as well as a playground and petting zoo. It's located in the spacious Wolski Forest at the edge of town, which in itself makes for a great day out with its many walking and biking trails.
Park Wodny
ul. Dobrego Pasterza 126
Krakow's only waterpark has plenty of chutes and slides to keep the young ones busy, plus nice pool-side chairs to lounge around in.
Lokietek's Cave
Ojcow National Park
Located in Ojcow National Park, just an hour from Krakow, Lokietek's Cave is a favourite of children, while the surrounding countryside is absolutely beautiful.
Krakow Paintball
Undisclosed military facility
While this is mostly for the older kids, adults undoubtedly will have a blast as well hunting each other with paint guns in the woods.
Motodrom Go-Karting
ul. Wawrzynca 12
Krakow's only go-carting track will delight both kids and adults. But be careful, the carts are quite fast and the safety gear is minimal - basically a helmet - so we wouldn't recommend it for children under 10.
Krakow Valley Horse-Riding or Tabun Horseriding
Paczoltowice 328 Krzeszowice 3, ul. Ireny Kosmowskiej 12
If your daughter has always begged for a pony, better than breaking her heart outright and saying she can't have one, offer her a day of riding! The beautiful countryside an hour out of Krakow is the perfect setting for a riding tour.
Child-friendly Venues:
Cafe Bunkier
pl. Szczepanski 3a
During the warmer months, this cafe has an outdoor sandbox where the children can occupy themselves while the adults have a coffee or drink.
Massolit Books
ul. Felicjanek 4
Whether you need to pick up a Tolstoy or a guide-book around Krakow, this quaint English bookshop has a kids' section complete with toys and a large selection of children's books in English.
Smyk stores
In just about every large shopping centre
Poland's answer to Toys'R'Us, the Smyk chain has been around for decades, and its stores' shelves are stacked high with dolls, toy cars, video games, Legos, and just about everything you child could want. The larger stores offer children's clothing as well as baby accessories.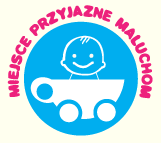 Additionally, for quite a few years now, a Kraków newspaper and internet portal Gazeta.pl has been holding a contest among restaurants, cafes, and cultural institutions named "Krakow Przyjazny Maluchom" ("Krakow Friendly to Children"). Each year, new places are confirmed, or added to the list as children-friendly. In practice, this means that you can expect a play area for children, kid's menus or menu selections at restaurants, and often special feeding and changing facilities. Look out for the special sticker, and you know you've found a kids-friendly spot.

Some kids friendly places in Kraków:
National Museum, al. 3-go Maja 1
Galicia Museum, ul. Dajwor 18
Collegium Maius Museum, ul. Jagiellonska 15
Art Club Cieplarnia, ul. Bracka 15
Klub Skowronek, ul. Gertrudy 3
U Louisa, Rynek Głwny 13
Kawiarnia Lido, ul. Zagaje 40
Cherubino, ul. Tomasza 15
Oberza Sasiadow Restaurant, ul. Kordiana 19
Cosa Nostra Restaurant, ul. Dajwor 25
Kawaleria Restaurant, ul. Golebia 4
Dynia Cafe Bar, ul. Krupnicza 20
Cafe Africana, ul. Straszewskiego 24
Magillo Pizzeria, ul. Lipowskiego 24
Taco Mexicano, ul. Poselska 20
Wierzynek Restaurant, Rynek Glowny 15
Pod Sloncem Restaurant, Rynek Glowny 43
Rooster Restaurant, ul. Szczepańska 4
Farina Restaurant, ul. Sw. Marka 16
Del Papa Ristorante, ul. Sw. Tomasza 6
Bar Smaczny, ul. Sw. Tomasza 24
Ikea, ul. Josepha Conrada 6
Massolit Books & Cafe, ul. Felicjanek 4, Kraków, http://www.massolit.com
Forum Przestrzenie, ul. Konopnickiej 28, Kraków, www.facebook.com/forumprzestrzenie
Karma, ul. Krupnicza 12
Yellow Dog, ul. Krupnicza 9
Miód Malina, ul. Grodzka 40
Pijalnia Czekolady Wedel, Rynek Główny 46
Teatr Groteska, ul. Skarbowa 2
Galicia Jewish Museum, ul. Dajwór 18
Underground Rynek Exhibition, Rynek Główny 1
Manggha Centre, al. M. Konopnickiej 26
Services and Activities for Children:
"Rosie and Violetta's Musical Storytime" - Krakow's only English-language entertainment for kids
Massolit Books, Various Locations
Rosie and Violetta are two musical, story-telling flowers. Rosie is an accordion-playing rose who creates an interesting musical soundtrack while her partner, Violetta, tells exciting stories. Between the stories there are lots of interactive songs and games. The shows that are open to the public occur once every few months, but they are also available for private hire. Check their MySpace page for details of the next show.
"Children Now" ("Teraz Dzieci")
In front of Bunkier Sztuki, pl. Szczepanski 3a
Every Sunday in July and August, Children Now invites children to join them at 11 am for an afternoon of painting and colouring.
Be sure to regularly check our events calendar, where we frequently list special shows and events just for children. Of course, if you have any other suggestions for places to take children in Krakow, please contact us or comment below!
Comments