Ojcow & The Jura Uplands
A writer who had walked from the Hook of Holland to Constantinople during the 1930's was shocked when he returned to Eastern Europe twenty years ago. For him, it was as if a grey veil had been placed over the land. And whilst clumsy development was not unique to Eastern Europe, there is no denying that large areas were blighted, Poland being no exception. Thus it is an uplifting experience when after twenty minutes on the bus northbound from Cracow one turns a corner and descends into a valley of breathtaking beauty. This area, known as the Jura Uplands, is now a national park in its entirety. It stretches north across a dozen or so miles of woodland, punctuated by charming wooden villages, lush meadows and ruined castles. Rising up out of the hillsides are fantastical limestone rocks. These have a distinctly Tolkienesque flavour and you really feel that Frodo and his chums could emerge from behind a boulder at any moment.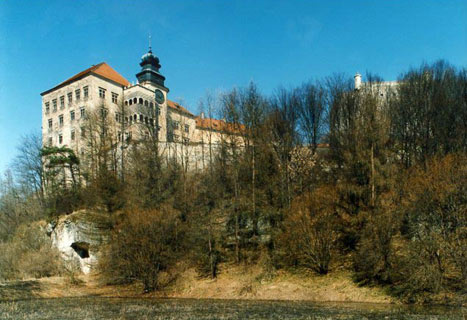 Several trails are marked for the benefit of hikers and there are plenty of places to get a bite to eat, particularly in the beautiful village of Ojcow itself. You should certainly not miss the wonderfully preserved castle of Pieskowa Skala, which alone would merit a trip beyond Cracow.
To get to Ojcow National Park from Cracow (aka 'Krakow') it is necessary to travel by car. Transport can be arranged with an Ojcow and Krakow Valle tour or why not hire a car for yourself for the day?
Comments