Krakow Christmas Market
Whilst those of us from Albion might pride ourselves on our fine fish and chips, our real ale and our increasingly promising cricket team, there's no doubt that when it comes to Christmas, the Central Europeans have the upper hand. Of course, access to vast quantities of snow gives our Slavonic cousins something of an advantage here, but it's not just the white stuff that gives them the edge. Take a look at the architecture for example. Our fine Western cities may be grand and elegant, but Slavonic fantasy lends that crucial ingredient when it comes to Christmas - magic.
In this light, winter wayfarers will be pleased to hear that Cracow is already preparing for her Christmas shenanigans. As always, one of the key attractions will be the Christmas Market itself, which takes up the better part of the Rynek (known in English as the Market Square).
The Market traditionally opens in the beginning of December and lasts even a little into January, though undoubtedly it's at its most festive in the week or so before Christmas. For this year's exact dates, check at the bottom of the page...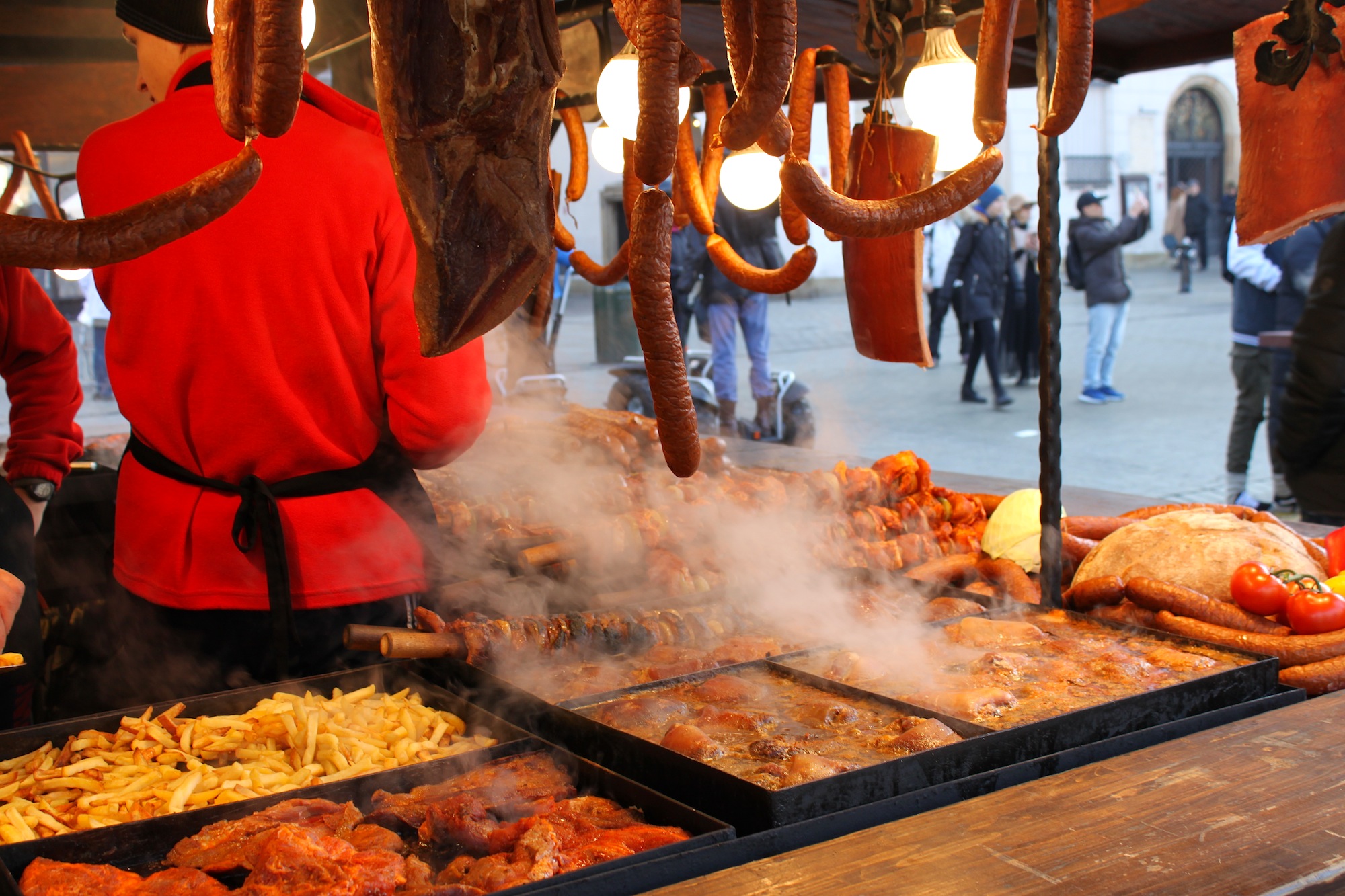 Amongst the best-loved features of the market are the giant wooden barrels (you feel that Obelix would have enjoyed throwing these at red-faced Roman legionaries). Inside these intriguing objects you can buy yourself a delicious mulled wine (Grzaniec Galicyjski). With the temperatures decidedly chilly to say the least, you could hardly find a more congenial potion to ward off the cold. Stalls selling sausages and the distinctive fried oscypek cheese (a tasty highland variety that's well worth investigating) provide other inviting gastronomic distractions.
But enough about food and drink. As indeed, the main point is to be looking for presents for nearest and dearest (or at least that's everyone's excuse for consuming heinous quantities of mulled wine). Amongst the wooden stalls you'll find all kinds of trinkets, from woolen slippers from the Highlands to amber jewellery from the Baltic. There's a fair amount of tacky stuff, but it would be a little unnerving if every last jot was an authentic Hansel and Gretel confection.
Another famous Cracovian Christmas tradition is Szopki, or Christmas Cribs. These are not actually cribs, but large iridescent constructions of card and coloured foil. They look like something out of a Slavonic fairy tale. Traditionally, the szopki are placed under the Mickiewicz statue (he of the anniversary) on the morning of the first Thursday of December.
The Christmas Market are generally open from the last Friday of November, and remain open until at least 26th December. Amazingly, there is actually a website devoted wholly to reporting updated information about every Christmas Market around the world. So, you can check it out for specific yearly info, dates and opening hours.

If you're keen to experience the magic of a Polish Christmas then step right up for some very special rates for apartments for Christmas or Sylwester. What could be more romantic than your very own cosy apartment in the snow-covered Old Town? Our friends at Krakow Apartments usually have some good deals this time of year and you'll certainly have plenty of Polish zloty left over for shopping in the Christmas Market!
However, if apartments aren't your thing then never fear - you're spoilt for choice with top-rated Krakow hotels, plus, Krakow Tours typically offer sleigh rides during the festive season!
Comments