Pierogi Cooking Class with Marta in Krakow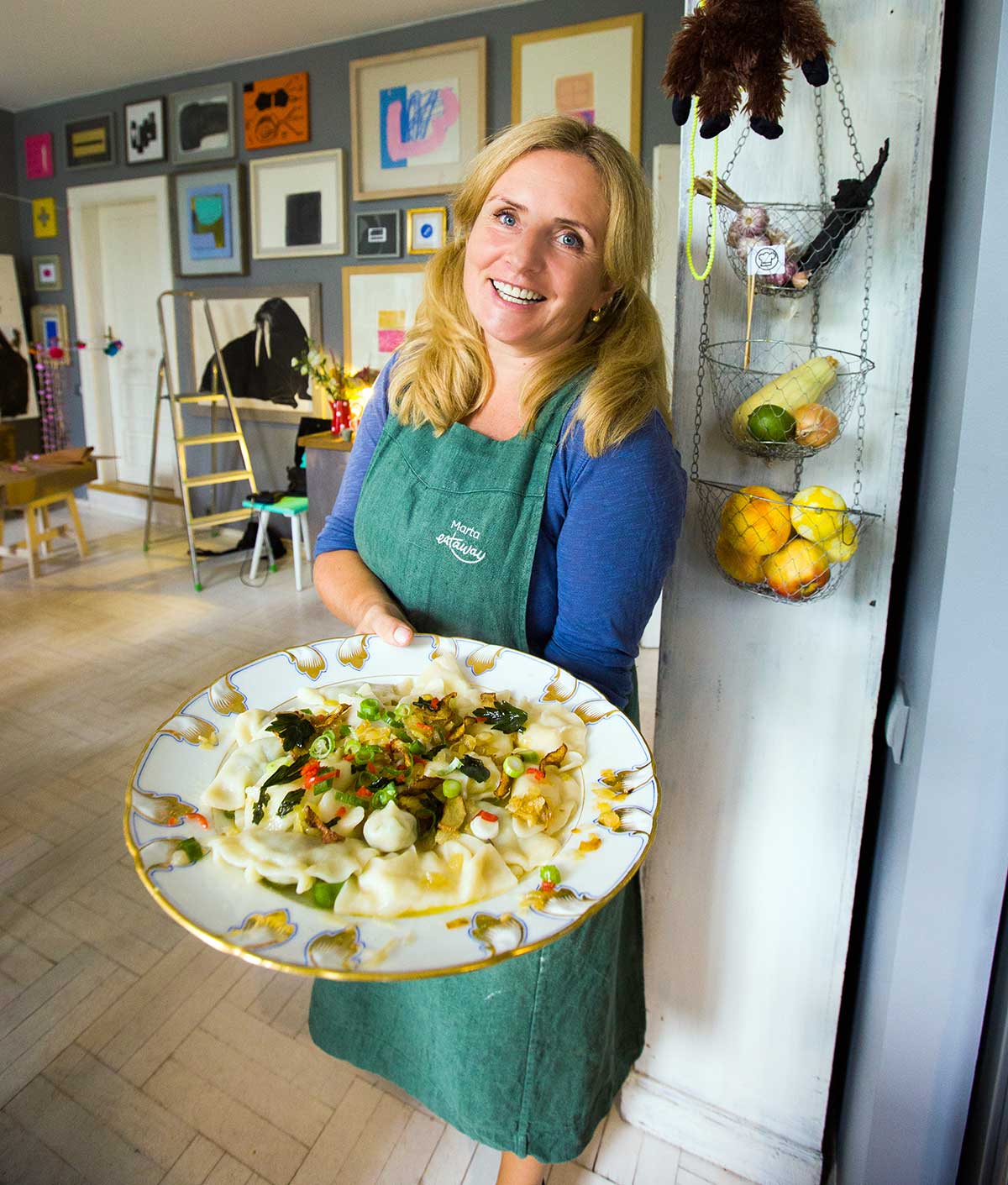 There are few things more Polish than pierogi, and few things more delicious as well! The problem is finding the absolute best ones during your trip to Krakow. There are a number of decent restaurants, for sure, but very few of them make pierogies fresh. They basically make them in advance, freeze them, then defrost and heat them before serving. Why? Well, making pierogies freshly takes time which most restaurant kitchens don't have. There's nothing wrong with frozen pierogies per se, but once you've tried fresh, home-made ones, you'll never want to go back!
Marta teaches how to make pierogies (as well as other classic Polish dishes) from her home in Krakow. She lives in Salvator, one of the prettiest neighbourhoods in Krakow, and just 12 minutes by tram from the Old Town, or a relaxed 30-minute walk along the river (an ideal way to build up an appetite before a cooking lesson or burn off some calories after it). Marta is a founder of the food sharing platform eataway.com, which brings guests from around the world to the homes of local cooks. She appears regularly on TV and radio in Poland, where she is often asked to comment on the sharing economy and food tech, and she loves sharing her ideas about the future of home cooking and how it can help bring our communities together, improve our health and fight food waste.
Marta offers pierogi cooking classes (for up to 10 people at a time) most days of the week in Krakow, and booking can be done directly online at eataway. Her class includes a welcome coffee or tea, and a short introduction to the history of Pierogi, before everyone gets stuck into making both the dough and the fillings. Once these are ready, Marta will show everyone the secret of making the pierogies themselves, cooking them and then serving them for everyone to enjoy. Following the meal, Marta normally brings out her home-made cheesecake (with salty caramel sauce) for dessert, along with more coffee and tea, and perhaps a shot of something stronger too! Lessons normally last about 2 and a half to 3 hours, and cost 240 PLN per person.
For more detailed information, photos and reviews, check out Marta's Pierogi Power website.
For booking, click here!
Questions, Questions?
What is provided?
All ingredients, cooking utensils, and apron.
What will I have to bring?
Just yourself, and a smile!
I have more questions. Who can I contact?
You can message Marta directly (marta@eataway.com)
Comments
Hi i am looking to book a session for 6 girls! We're traveling to krakow for my cousins hen weekend and would love to try this. Either this Saturday or Sunday, do you cater to vegetarians/vegans?
Reply
We just had a pierogi-making class the last week of September 2022. It was fantastic, as was Marta. You book via her eataway website as listed in the article - there is a pull-down calendar and you can include the number of participants. There is a notes field to request vegan etc options.
Reply