Polish Food
Visiting a foreign country can be a confusing and frustrating experience at times, and it's often difficult to separate yourself from the crowd of tourists that, let's face it, if you weren't in the same boat as, you'd be shaking your head at. Like Robin to Batman, Local Life Warsaw has taken it upon itself to come to your aid so you can, as the informed traveller, rise above your tourist peers and order your grub like a real native. We can't help you with the pronunciation but we can help you to know what you're talking about.
Before we get started with our background to Polish food, it is worth mentioning that recently local cooks in Poland have started offering home meals and cooking lessons and these provide a great opportunity to eat real Polish food and chat with local hosts at their homes. The Eataway home cooking movement is expanding across Poland, having started in Krakow, where you can also read a review about it on the Krakow Post website.
For years, Polish cuisine was derided for its lack of invention, but things are changing as you'll have seen by the incredibly varied array of Warsaw restaurants in our eat section. As for Polish dishes, you can't beat the classics and we love them so much we've gone to the trouble of producing a quick guide to the dishes you're most likely to come across.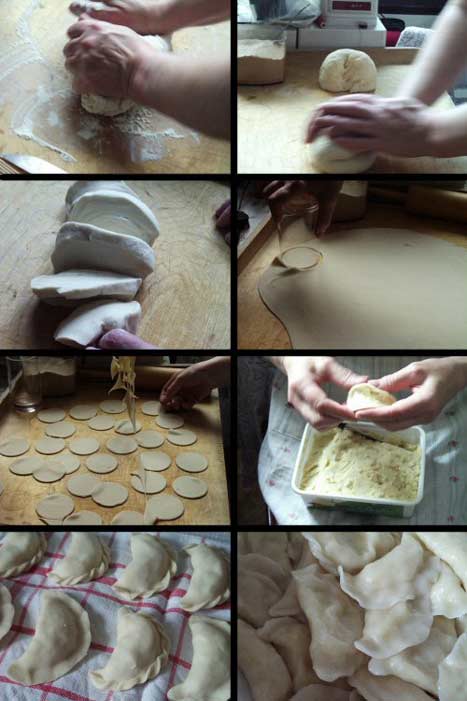 Pierogi - Often the first stop on the journey through Polish cuisine and the first thing you'll recognise on the menu. Many restaurants will translate this as filled dumplings or ravioli but neither term really does the Pierog justice. Though almost every Eastern European lays their claim to being the inventor of Pierogi, we don't recommend you use this as a case of discussion after you've had a few vodkas - it's an argument you're unlikely to win. Pierogi are crescent-shaped parcels filled with any one of a number of tasty fillings. They can be crispy (smazone) or boiled (gotowane) doubling your number of choices. Here's a quick rundown of the ones you're most likely to see.…
Savoury
Ruskie (Russian) - The most popular and well-known, these are filled with potato and cheese and are an excellent place to start for the cautious.
Z Miesem (With meat) - Normally filled with beef or pork and tastiest when crispy. Often served with a cranberry sauce, this is the pierogi of choice for meat-lovers. Check first though as sometimes the meat is mixed with cabbage (kapusta), a big no-no for those that love their meat pure.
Z Kapusta (Cabbage) - Spend a couple of days in Poland and you'll soon see that, rain or shine, summer or winter, the Poles are mad about their cabbage; and so a trip won't be complete without sampling the number one ingredient with the number one dish.
Z Grzybami (Mushroom) - Often combined with cabbage, mushroom pierogi reflect the Poles' love for the mushroom, second only to cabbage on the list of field-grown favourites.
Leniwe (Lazy) - No filling whatsoever, hence the name. These are great for those looking for some no-frills, cheap as chips stodge.
Sweet
Z Serem (cheese) - Unlike Ruskie, these are filled with a slightly sweet cottage cheese and raisins. Cover with a dollop of sweet cream and you've got an excellent choice for desert. Probably not to be preceded by Ruskie unless you're seeking cheese overload though.
Z Owocami (fruit) - Depending on the season this can be apple or a combination of the forest berries cultivated in Poland. Normally served with cream and excellent for those summer days when the hot stuff proves a little too much or during the winter when you're struggling to get your five-a-day.
Z Truskawkami (Strawberry) - Best in summer when the strawberries are likely to be fresh not frozen and served with a dash of cream and maybe a little coulee. Like Poland's answer to strawberries and cream.
Z Borowkami (Blueberry) - Perfect for giving your teeth that highly desirable blue rinse, blueberry pierogi like the strawberry variety are a big summer hit when the berry-mad Poles harvest both the wild and 'American' varieties.
Bigos - A traditional stew native to Poles and Lithuanians, bigos is considered to be Poland's true national dish and its composition can vary from region to region, village to village and restaurant to restaurant. This hunter's stew is a staple of every Polish family so be sure to sample it during your stay. Fresh or fermented cabbage forms the base of the meal to which either whole or pureed tomato is added alongside cuts of meat mainly, but not exclusively kielbasa or pork and finished off with honey and mushrooms. The dish is traditionally accompanied with rye bread or potatoes and is typically served on the second day of Christmas. Its high concentration of vitamin C, the ready availability of cabbage and general heartiness made it a classic and nutritionally fundamental dish during centuries and centuries of cold winters. Wash it down with shots of ice-cold vodka for the authentic experience.
Barszcz (or Borscht) - Drink it hot in the winter and cold in the summer but either way, make sure you don't miss one of Eastern Europe's most-popular starters. Again, Ukrainians, Russians and Poles would undoubtedly argue over the soup's origins until the early hours (over some vodkas no doubt). Hot barszcz is generally more popular among Poles and is based principally on beetroot and meat stock. Various other vegetables, including tomato and garlic can be included and the soup can vary in consistency, either served in a cup to warm the stomach for the arrival of pierogi or as a thicker stew to be accompanied by just bread or uszka (literally "ears"), a mini version of pierogi with meat served in the barszcz itself.
Kasza - This buckwheat cereal serves as an equally hearty alternative to rice in Poland. Served on its own or with lard and onions, (gryczana ze skwarkami) this is either a super-cheap meal on its own or an easy accompaniment to meat dishes. Sometimes found as a filling in pierogi.
Rosol z kury (clear chicken broth) - Sometimes served with noodles (z makaronem), this is something that appears less and less on Polish menus these days but, if come across, should definitely be lapped up. A starter for the famished or full meal for the less ambitious, few foods have the potential to warm the stomach quite like Rosol.
Zurek - Imagine the goodness of Rosol with essentially all the elements of a full meal thrown into the mix. Sound good? Barszcz's origins are disputed and the truth may never become clear, but nobody can deny the heritage of Zurek as Poland's own. Though the recipe is open to improvisation and the discretion of the chef, a typical bowl of Zurek will include at least one boiled egg which appears to have been comically or mistakenly thrown in randomly and a healthy dose of white kielbasa. Regional variants might also include carrots and potatoes. If you've decided on Zurek as a starter be very very careful about how much you order as a main course. Eyes bigger than stomach anyone? Or, as they say here in Poland, jesc oczami (to eat with the eyes)!
Zupa Grzybowa (Mushroom soup) - While mushroom soup in most countries wouldn't exactly set the pulse racing, keep an eye out for this soup when served w bulce (in loaf) and, should you follow through with an order, you won't be sorry. A small cottage style bun cum loaf of bread is hollowed out and used as a soup vessel. Break off bits from the side as you progress or scrape out the soggy bread from the inside, this soup, as with the above soups is hearty and filling enough to comprise a full meal. While it might be a bit heavy for the summer months, you'll certainly be pleased it's on hand during winter.
Chlodnik - The Polish version of gazpacho, a cool, refreshing soup for the summer months, this chilly concoction combines soured milk, beetroot leaves, young beetroots, cucumber and chopped fresh dill. For those days when a piping hot cup of barszcz just doesn't tickle your fancy.
Flaki - In a word - tripe. Of the pork of beef variety, let's face it… If it's not for you, you'll hardly be convinced by the smattering of seasonings and spices. Not something to order if you're looking to impress the vegetarian other half.
Smalec - Polish peasant classic and a reminder for some of hard times and scarcity, a plate of lard ready with dipping bread is still a common sight in traditional Polish eateries of all budgets. Great for winter, not so good if you've still got ideas of a summer six-pack.
Placki Ziemniaczane (Potato Pancakes) - Again, whether these are of Hungarian, Czech, Polish or Jewish origin is unclear, the most important thing is that these are pretty darn good. Think of them as the Polish version of American hash browns, but classier. Take them as they come or try with melted oscypek or, if you're looking for a tip, a favourite of ours is with Goulash (z Gulaszem) otherwise known as po Wegiersku (Hungarian style).
Golonka - A real treat for meat lovers, Golonka is normally sold by weight, so be aware that the price you see per 100g is likely to be multiplied by five or six. Though not the leanest of cuts, once you get to the good stuff it will certainly have been worth the effort. Just think of the words 'melt in the mouth' and you'll have a good idea. Highly recommended by this salivating scribe is Golonka cooked and served in beer and honey sauce. Truly lipsmacking stuff.
Golabki - Cabbage is back on the scene here as leaves of the white variety are used to envelope a delightfully tasty mix of spiced beef and/or pork, tomato sauce and rice. Legend has it that King Kazimierz IV fed his army Golabki prior to the battle of Malbork against the Teutonic Order in 1465. Victory was credited to the high nutritional value and strength-boosting qualities of Golabki. Hell, if its good enough for the king's men…
Nalesniki - Pancakes to you and I, and though it's highly doubtful the Poles could pass these off as their own, there is no doubt the Poles have taken to them as much as any country. Similar to the European crepe variety rather than the American hotcake, you're likely to find these on most menus either with sweet or savoury filling. Not the most Polish thing you'll find on the menu but you can't beat them with blueberries.
Kluski (Dumplings) - Normally referred to as Kluski Slaskie (Silesian Dumplings) these are a great winter accompaniment to soups or meat dishes. Though basic in form, there can be no denying the tastiness of nice heavy stodge on a 20 degrees below zero day.
Oscypek - Originating from the Zakopane mountain region, this tough smoked cheese is an excellent addition to any grill/barbecue menu and no visit to Poland would be complete without at least a token sample. Though available both smoked and unsmoked and in a variety of different shapes and forms, smoked is definitely the most popular and its strong taste is perfectly set off by a healthy dollop of cranberry sauce. If it's good enough to keep those mountain folk healthy all year round, who are we to complain?
Kielbasa - The Spaniards have chorizo, the Italians have salami and pepperoni, the Germans have the frankfurter and bratwurst, the Americans have the hotdog and the Brits have a whole array of British bangers. Second to none of the above, the Poles chip in with kielbasa, their sausage of the spiced and smoked variety. The white version is generally cheaper and fattier and is what you're likely to find in Zurek. You'll find the regular, red kielbasa everywhere in Poland, whether it's in a street grill restaurant, milk bar, upper-crust exclusive establishments and even on pizzas. Most restaurants will not specify the exact type and there are literally too many to mention. However, if you're buying to take home we strongly recommend wiejska, krakowska, or podwawelska, or z serem (stuffed with cheese - not to be missed!); all excellent choices. Varieties differ in fat and garlic content, type of coating and combinations of seasoning, and some varieties are more suited to barbecuing than home cooking and vice versa, but providing it's Polish, you're unlikely to go wrong.
Schabowy - The Polish version of pork chops, nothing goes better with potatoes than some hearty cutlets. They can be breaded or not, and grilled or baked, depending on the establishment. Trust us though - the best are served in a Polish home by someone's mother (or father - it is the 21st century after all!). Szarlotka* - There is perhaps nothing better to accompany an afternoon cappuccino or cup of tea than a slice of warm apple pie with ice cream - as the Americans would say 'just like ma used to make'. In almost any Polish city, you're sure to be able to strike up a heated debate just by asking a group of locals who has the best szarlotka in town - it's certainly caused its fare share of heated discussion here, that's for sure. Unlike American and British variants which opt for the pastry way, the Poles have gone for the cakey approach and, excuse us for a hint of bias, but we feel it's the best of the bunch.
*Poles also are renowned for their penchant for all things sweet. Read up on it in our section on the Polish sweet tooth?
Comments