Euro 2012 in Krakow
Yes, against all the odds, Poland and Ukraine will be hosting the European Football Championships in 2012! After the announcement by UEFA chief Michel Platini in Cardiff on 18th April 2007 that the two countries will be hosting the tournament, winning out over more favoured bids by Italy and Croatia/Hungary, widespread jubilation has spread throughout the two Eastern European countries.
The action will be spread over six cities in Poland: Warsaw, Gdansk, Poznan, Wroclaw, Chorzow and Krakow; and four cities in Ukraine: Kiev, Lviv, Dnipropetrovsk and Donetsk. Kiev's Olympic Stadium, which hosted the football at the 1980 Moscow Olympics, is the proposed venue for the final.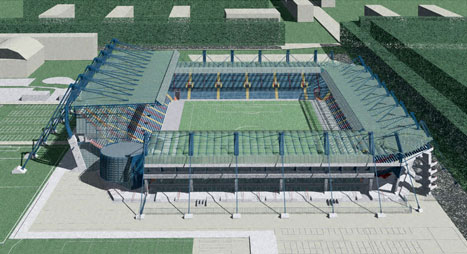 Above: The planned renovation of the Wisla Stadium in Krakow, which currently seats 33,000 fans, is expected to be finished in 2010.
While Krakow was only chosen as a reserve venue, not as one of the main match hosts, there's still a good chance at least one match will take place here. Regardless, Krakow is sure to see some of the infrastructure money allocated by the Polish government and the EU going into the city, from improving roads and railways that will make getting to Krakow much faster and easier, to renovating the city's stadiums.
Be sure to stay tuned to Cracow Life as the 2012 European Championships approach, for updates on the status of matches in Krakow, as well as schedules for matches in other Polish and Ukrainian cities. If you can't wait for 2012 however then check out all the latest news and views on Euro 2008 in Austria, courtesy of our colleagues in Vienna. See you at the game!
Comments