Krakow Sport
More commonly known as Poland's cultural capital than its sporting one, Krakow can also boast a fine sporting pedigree and some decent facilities for those who like to keep active.
The most popular sport by far is football (that's 'soccer' to any Yanks out there!). In Poland, you will find thousands of wannabe Jerzy Dudeks (remember him for Liverpool?) wearing goalie jerseys for soccer teams. Wisla Krakow has been the dominant team in the new millennium, winning the league title often. However, rival Cracovia put a sting on them recently and only time will tell who wins out this year.
Meanwhile arch-rivals Cracovia are still enjoying football in the first flight for the second season running after a triumphant return last season. They had been absent since 1984. Winners of the first Polish championship in 1921, Cracovia can boast of an illustrious history and a very special fan. He may have been too diplomatic to say so openly, but it is widely known that Pope John Paul II was a Cracovia supporter.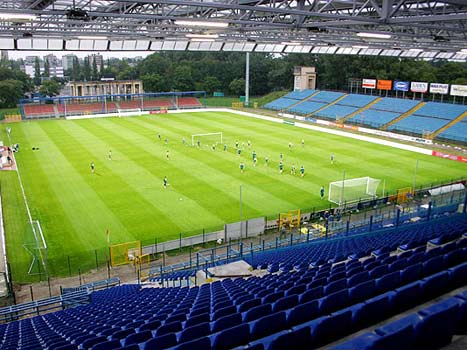 Unfortunately there is a dark side to Polish football. The rivalry between Wisla and Cracovia is so bitter and idiotic that it often descends into bouts of intense violence amongst the supporters, sometimes involving unlucky bystanders, so take our advice and try to steer clear of any fans on derby days! In general, avoid red-and-white stripes (Cracovia) or stars (Wisla) on your clothing, too. An additional blot on Polish football is that the few black players plying their trade here are often subjected to mindless verbal abuse from the fans. It's a sad reminder that there is long way to go before we kick racism out of football (or the country in general).
After football, basketball, ice hockey and volleyball are probably the most favourite sports of Krakowians, both to play and watch. Women's basketball team Wisla Can-Pak Krakow are heading the PLKK league and usually do quite well. Meanwhile in ice hockey, Comarch Cracovia are currently topping the league in the Polish Hockey League.
If you're in town, then going to watch a big game can be a truly authentic Krakowian experience - you'll probably learn more than by visiting any museum! Just make sure you know what team the fans sitting on either side of you are supporting and go with them!
If, however, you're more of a partaker than an observer you'll be pleased to hear that there are a number of sports you can pursue in Krakow to keep that beer belly in check, or stave off the advances of over-wobbly thighs and buttocks! There are a number of places to play tennis and squash, as well a whole host of fitness centres and gyms for purists. There are also numerous cycling paths by the river, which also double up as routes for joggers and rollerbladers and skaters.
For those who fancy a lighthearted kick-about, or a game of ultimate frisbee, then Krakow's many parks offer plenty of open space, the Blonia being by far the biggest.
Other sporting activities that Krakow offers tourists and residents alike include golf, horseback riding, go-carting, shooting, adventure sports and every drinker's favourite sport: snooker.
So what are you waiting for? Time to get active. Head to our entertainment directory for a full listing of gyms, parks, and other venues for the fitness-minded!
Comments
Where to buy cheap Larry Allen jerseys? Come here. 80 Elite Texans Andre Johnson Women Jersey Stitched Nike NFL Be Luvd Pink
Reply
Hola, soy Sergi,soy de Barcelona y llevo 2 meses viviendo en Krakow, me gustaría poder entrenar en algun equipo de futbol de Krakow, tengo experiencia ya que practico este deporte des de pequeño. Si alguien sabe donde puedo ir a probar, que me avise por favor. Muchas gracias
Reply