Travelling to Amsterdam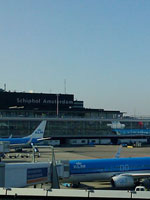 Above: Arriving at Schiphol Airport

Centre: Centraal railway station back in the day

Below: You may need a car about this size to manage central Amsterdam's tiny roads!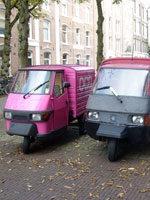 By air
With cheap flights from budget airlines like EasyJet abound, most visitors to Amsterdam, these days, arrive by air. A proper international hub, and the largest airport in the Netherlands, Schiphol serves hundreds of destinations, including most major airports in the UK. Situated roughly 10 kilometres southwest of Amsterdam's city centre, getting to your hotel is a quick and simple process by taxi or train. Read more about Amsterdam's airport, and the best ways to reach the city centre, in our Schiphol airport guide.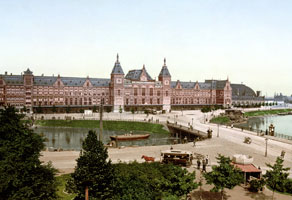 By rail
Amsterdam's main train station is Amsterdam Centraal, located along the River IJ in the heart of Amsterdam. Many visitors arrive to Amsterdam by rail, particularly those touring Europe with on an InterRail Pass. Travel times to nearby European cities are pretty quick from just under 5 hours to London to a little over 3 hours to Paris. The Stationsplein square in front of Centraal Station is also home to several useful tourist services such as a GVB public transportation office where you can purchase a travel pass for your stay. This is also where you can catch many of Amsterdam's trams, which use Stationsplein as a central hub.
By bus
As expected, traveling by coach is by far the cheapest option, but also the most time consuming. For example, a bus trip from Amsterdam to London takes roughly 13 hours. Buses arrive and depart from Amstel Station, about 10km south of the city centre, easily reached by metro.
By car
Driving to Amsterdam from other European cities is quick and easy thanks to predictably good motorways and a welcome lack of border control within the Schengen zone of the EU (though this does not include the UK). Those travelling from the UK can take a ferry or shuttle train through the EuroTunnel channel tunnel. Amsterdam is roughly 370km away from Calais, taking the E40 through Antwerp and Utrecht.
Comments