Getting around Amsterdam
3Getting around Amsterdam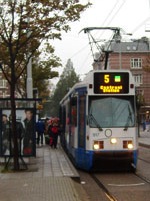 Above: Using the handy tram system Left: Bicycles, bicycles, as far as the eye can see Below: Some police choose an alternative form of transportation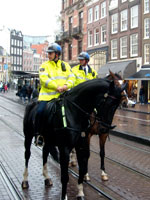 By Public Transport
Public transportation in Amsterdam is organized by GVB, which runs an efficient system of trams, buses, a few passenger ferries, and a small metro system throughout the city and its environs. Trams are the most commonly used by tourists, as the other forms of transport generally cater to commuters travelling to outer districts.

The old paper strippenkaart tickets have been now completely phased out, which means that the only way to travel is with a PT Smart Card, more commonly known by its Dutch name, the OV-chipkaart. Everything from singles to weekly passes are now sold in the form of these OV-chipkaarts, which you can purchase from GVB ticket offices or directly from conductors which are on board most trams travelling throughout the centre. The most important thing about these cards, is that you must remember to "check in" (by holding your card against a card reader) upon boarding, and "check out" before leaving the tram or bus. If you forget, your card will be no longer valid for further trips. Talk about a serious bummer.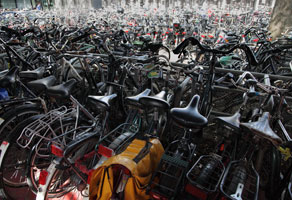 By Taxi
If you'd prefer not to take public transportation, taxis are a decent option and very easy to hail down from major streets. Prices are relatively steep, but with everything so close together in Amsterdam, the prices rarely reach exorbitant levels. Just make sure the driver has got the metre turned on and you're good to go.
By Bicycle
There are few things more stereotypically Dutch than bicycles, and you'll find Amsterdam's streets teeming with cyclists zipping from point A to point B in style. If you'd like to have a go yourself, make sure to stick to bike paths as much as possible and be wary of pedestrians, cars, and other cyclists. Conveniently, bicycle rental shops are everywhere - head to our services directory for a few suggestions.
By Car
Driving by car in Amsterdam is not recommended. For those unfamiliar with the city's winding, narrow streets, it can be more of a headache than a convenience to attempt central Amsterdam by car. Parking can also be a pain, so we'd simply recommend you park your car at your hotel and enjoy Amsterdam by foot, bicycle, or public transportation. It's cheaper too!
Comments
It is very safe to cycle in Amsterdam. Cars take great care as they are used to cyclists. It is the best way to get around the city.
Reply