Schiphol Airport in Amsterdam
Amsterdam Airport Schiphol (AMS) is the main airport for Amsterdam and the largest airport in the Netherlands. Serving nearly 50 million passengers each year, Schiphol is Europe's fourth busiest airport with roughly 300 destinations available from about 100 passenger airlines.
The airport is situated about 10 kilometres southwest of Amsterdam's city centre in Haarlemmermeer, a municipality which stands on land reclaimed from a large lake in the 19th century. Rather amusingly, the name Schiphol translates to "Ship Grave", which thankfully does not refer to the "ships" traveling to and from the airport. Fort Schiphol was located next to the original Haarlem Lake, a place notorious for the many ships lost in its waters.
Nowadays, Schiphol airport is one of the world's busiest and most modern airports, with an incredible array of facilities for passenger use. There are plenty of chances for shopping both before and after security control, including such shops as HEMA, H&M, and Nike, as well as the usual duty-free shops. There are many dining options as well, starting from fast food through to Irish pubs, cafes, and upscale luxury restaurants.
In addition to the usual amenities, Schiphol has heaps of slightly more unusual attractions including a Hotel Yotel which can be booked by the hour for a few moments of relaxation between flights. The airport also is home to a casino, spa, religious centre, library, and even a small branch of the Rijksmuseum.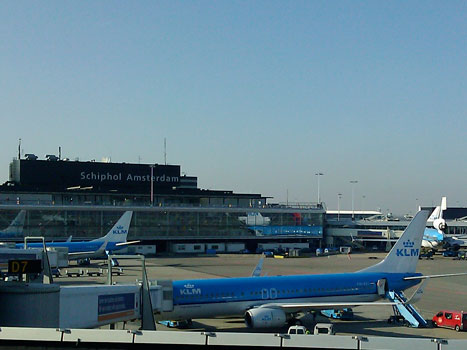 Airlines & Destinations...
Amsterdam Schiphol certainly doesn't lack in destinations, and you can easily connect to almost anywhere in the world from here. Many airlines utilise Schiphol as a hub, including KLM, Arkefly, and Martinair, as well as budget airlines Transavia and Vueling.
Other low cost airlines flying to Amsterdam are bmibaby, easyJet, Iberia Express, Norwegian Air Shuttle, Flybe, and Jet2.com.
Getting from the airport to the city...
Driving to Schiphol from Amsterdam's city centre is an easy 20 minutes via the A4 motorway right off of the A10 ring road.
However, the best way to get to Amsterdam from the airport is by train - an affordable and quick option which will have you in the city centre in 15 minutes. Tickets are available from booths and ticket machines in Schiphol's Plaza, and trains conveniently depart from beneath the terminal. Departures are frequent, but if you plan to travel late at night or very early in the morning, it might make sense to plan on getting to and from the airport by taxi.
Schiphol provides a Travel Taxi service which can be booked in advance for private and shared transfers, which vary in price. You can expect to pay roughly 35 euro for a shared transfer (meaning the taxi minivan will stop to pick up more passengers along the way) or roughly 50 euro for a private transfer to the city centre. A regular taxi hailed form within Amsterdam's city centre will probably set you back 40 to 60 euro for a direct ride to the airport.
Comments