The Red Light District
For all its honorable attempts to focus its image solely on culture and canals, Amsterdam simply can't escape its reputation connected to more unorthodox attractions - and the Red Light District lies at the heart of it all. Sex shops, brothels, peep shows, and the famous scantily-clad, red-lit window ladies, are all part of the sex industry in Amsterdam. As in all of the Netherlands, prostitution is legal in Amsterdam.
As with the country's relaxed policies on cannabis, legalized prostitution is a result of the famous Dutch tolerance. Whereas these activities are rife in nearly every corner of the world, they are nearly always illegal, and it seems that the Dutch "tolerance" is really more of an attempt at reasonable control, putting safety ahead of some moral beliefs.
Along with the ability to simply stay on the right side of the law, sex workers in the Netherlands are represented by a trade union, and receive health and social benefits, just like anybody else. But it's not all rosy for sex workers in Amsterdam - sex trafficking is still a major problem in the city.
A great resource for more information is the Prostitution Information Centre (Enge Kerksteeg 3), a charity set up by a former sex worker in 1994. Located in the heart of the Red Light District, this is the place to go to get all your questions answered.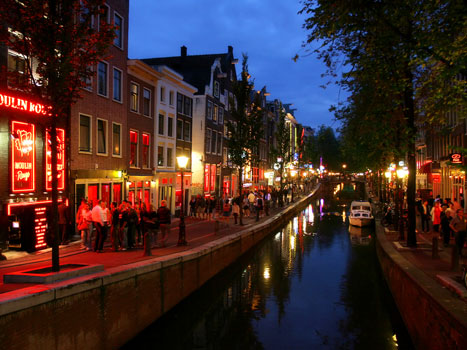 While the Red Light District's rather seedy reputation is, admittedly, warranted, the city has been working hard to revamp this area. After all, the district is smack bang in the middle of town and is actually part of De Wallen - Amsterdam's oldest area dating back to the 14th century. It's home to Amsterdam's Chinatown, its oldest church (Oude Kerk), and one of its most interesting, tiny museums (Our Lord in the Attic). In the last few years, hundreds of red-light windows have been closed following a city scheme to clean up the area, and designer shops and restaurants have begun to replace brothels and sex shops.
It may be pretty sleazy and tacky, but the Red Light District continues to draw the tourist masses - and usually for the simple act of gawking. There's no doubt a walk through this area is almost other-worldly, but there are a few things to keep in mind before heading out to skip through the streets of sex. Visiting at night is no more dangerous than a daytime visit, and this is when you can feel the real atmosphere of the place - and of course see those neon red lights in their full glory. As for the "window brothels", it's not a problem to stare a little bit, but it's absolutely forbidden to take any photos. Drug dealers tend to also hang out in this area - it should be obvious that avoiding them is probably a good idea. Finally, don't be scared of visiting - police presence is quite heavy here, so it's probably one of the safer districts in Amsterdam, in that respect. And if it all gets a little bit too much for you, rest assured that the Red Light District is actually relatively tiny. Walking in any direction for a couple of minutes will land you back in regular, white-lighted territory.
Comments