Language Tips!
There's no getting away from it - Polish is a tough language, any early attempts at which will have you sounding like you're whispering, gargling and choking simultaneously. Many Poles, particularly the younger ones, speak a little English, but that's no excuse not to learn at least a few of those tortuous tongue-twisters, so we've included. at the bottom of this page, a brief guide to get you started.
For those who wish to get more involved, there are a host of excellent language schools in Poznan, many of them providing translation services, which may be necessary if you plan to stay any length of time in the area.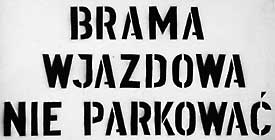 There are a whole range of Polish words which look pretty similar to their English equivalents, so signs such as POLICJA, RESTAURACJA, HOTEL and TAXI are hardly going to tax most travellers, but here are a handful of others that may be useful: Kawiarnia - Cafe
Herbaciarnia - Tea House
Ksiegarnia - Book Shop
Mieso - Butchery
Nabial - Dairy products
Sklep - Shop
Prasa - Newsagent
Dworzec - Station
Lotnisko - Airport

There are a couple of minor regional differences in language for the Poznanians which are confusing even for Poles from other cities. For example, the Polish word for potato is 'ziemniak' but in Poznan it is often called 'pyra'. Therefore, Poznanians are known as 'Poznan Potatoes'. Another word exclusively used here is 'tej', pronounced 'tay'. Asking a local what it means invites a few suggestions but the general is that it means something like 'you know' and it usually appears at the end of a sentence.
Comments
Peter from Netherlands Reply Feb 26th, 2013
Hi! If you would like to learn Polish but do not have enough time to attend regular classes I can recommend private lessons on a one to one basis - visit www.polishpoznan.com - good luck!
Karolina from Poland Reply May 17th, 2012
Dzień dobry! If you want to study Polish language-send me an e-mail (k.sydow@wp.pl).I'm a teacher of Polish l. for foreigners for 7 years and I really like it. Pozdrawiam! karolina
no one from United States Reply Oct 30th, 2009
this is the best reveiw ive ever seen in ,my life i hope you can put more up line.
Bfair translations, www.bfair.pl from Poland Reply Jun 30th, 2009
You're right! "So spoken by a Poznañ native" - yes, but also by a master of philology ;) So: from an etymological point of view "TEJ" is a VOCATIVE FORM OF THE PERSONAL PRONOMEN "YOU", and that's exactly what I ment, writing that it was very similar to "YO" :) For all, who know Polish: an very interesting DICTIONARY OF POZNAÑ DIALECT: http://www.poznan.pl/mim/public/slownik/ - there You can find also TEJ :)) Greetings from this nice city. ;)
dominika from United Kingdom Reply Jun 27th, 2009
Ok so spoken by a Poznan native :) The word "tej" does not mean anything any more but it probabely dervives from ty (meaning: you) but we do not really use it for that any more. Instead we put it wherever we can to stress what we are saying / drag someone's attention to something (also before the actual 'you'):D I think you can compare it "man" or "mate" that you guys are adding when you want to stress something (I think that the 'you' part in here) E.G. You still owe me some money, mate. Tej, ty mi ciagle wisisz kase. Ufffff.... I hope it helps Cheers
Bfair translations, www.bfair.pl from Poland Reply Jun 24th, 2009
Hello. 'Tej' means not really 'you'. It means actually nothing, it's a kind of empty phrase, very close in the meaning to 'yo' or 'hey' :) I was born in Poznan, so believe me. Greetings!
ashley from United Kingdom Reply Sep 29th, 2008
buzakie means kisses. xxxx
János from Hungary Reply Sep 23rd, 2008
Tej means execly "You" and not you know
ayman from Egypt Reply Jun 16th, 2008
thanks for your efforts and i hope more to understanding
Tom from United Kingdom Reply Oct 30th, 2007
Thanks so much for the audio language guide, this makes those hard Polish phrases so much easier to learn!
Arron from United Kingdom Reply Apr 27th, 2007
if anyone who trys to help you with polish says hello is kurwa. Dont listen. it is a bad word.