General Information
6Info about Zakopane & Poland
Zakopane is Poland's premier centre of mountain hiking and skiing. Although its local population is only about 30,000, Zakopane is visited by a staggering 2 million tourists a year. Situated in the Malopolska Voivodship, in the southern part of the Podhale region, Zakopane lies at the feet of the Tatra Mountains the only alpine mountain range in this part of Europe. Zakopane lies in big glen between the main Tatra range and Gubalowka Hill.
Zakopane is Poland's highest town: its municipal region extending from 750 to 1000 m above sea level. The highest peak in the area of the town is Mt. Swinica which is 2301 metres above sea level, with the highest peak in the whole of the Polish Tatras, Mt. Rysy, reaching 2499 m above sea level. The central point of the town - the crossroads of Krupowki St. and Kosciuszki St. are 838 m above sea level.
The very first documents mentioning Zakopane come from the 17th century, and describe the Zakopisko glade. Its later history was connected with the development of mining and metallurgy industries and then with the progress of health service and tourism. It gradually evolved from a little village to the region's health-resort and ultimately a reasonable-sized town, named the winter capital of Poland.
There are plenty of museums in the town, the most significant and oldest being The Tatra Museum. There is also the Natural History Museum of Tatra National Park and biographical museums of famous Polish artists, among them great composer Karol Szymanowski, the poet Jan Kasprowicz, and the artist Wladyslaw Hasior.
Tourists can visit numerous exhibitions and local craft and fine art galleries. There are also several artistic schools and, most famously, The Stanislaw Ignacy Witkiewicz Theatre.
Mountain Culture is explored in The Tatra Folk Centre. Zakopane has become something of a mecca for mountain culture beyond Poland's borders, with the folk culture of mountaineers from all continents being celebrated at the annual International Festival of Highland Folklore every September.
In Zakopane the newspaper Tygodnik Podhalanski (The Podhale Weekly) is published every Thursday. It is distributed all over the Podhale region and even among the Polish citizens of Chicago. There is also a local broadcasting station, Radio Alex (FM 72,26 and 105,2 Mhz).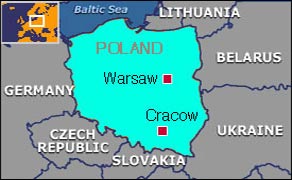 Population: 39 million Capital: Warsaw Major language: Polish Major religion: Christianity Life expectancy: 68 years (men), 77 years (women) Monetary unit: 1 zloty = 100 groszy Main exports: Machinery and transport equipment, foodstuffs, chemicals Average annual income: US $11,300 Internet domain: .pl International dialling code: +48
About Zakopane
Positioned at the centre of Europe, Poland has known turbulent and violent, as well as prosperous times. There have been periods of independence as well as periods of domination by other countries. Several million Polish people, half of them Jews, died in World War II.
In 1989 Poland became the first of the eastern European countries to overthrow Communist rule, following years of demonstrations, strikes and underground political movement led by the Trades Union movement Solidarity. Despite strong Russian objections, Poland joined Nato in 1999 and has been formally invited to join the EU in 2004.
Poland has achieved some success in creating a market economy and attracting foreign investment. However, unemployment is high and incomes and growth low. The huge farming sector is unwieldy and very inefficient, many farms still retaining their medieval land divisions into inefficient, long strips. In spite of this, Poland's agricultural output is greater than that of Great Britain, France and Italy combined, which is why future EU subsidy levels have been a major area of controversy. Corruption has been singled out by the European Commission as a particularly major problem which must be urgently addressed, as well as the necessity to improve border controls.
The Roman Catholic church, a very strong force in Polish life, has expressed concern that modern lifestyles are corrupting moral values. The church has been involved in heated debates over issues such as worship in schools and abortion.
Comments