The Wladyslaw Hasior Gallery
Wladyslaw Hasior (1928-1999) was one of the foremost Polish artists of the postwar era, and he maintained strong bonds with the Podhale region throughout his life. He also organized the thoroughly unzany Museum of the Zakopane Style in the Willa Koliba, which again is well worth a look.
This museum is the perfect introduction to Hasior's galaxy - and a tremendously inspiring one it is too. Even if this kind of thing is not normally your cup of tea, it's well worth dropping by, and expressions such as 'wheat from the chaff', and 'sheep from the lambs', instantly spring to mind. It's a marvelous place!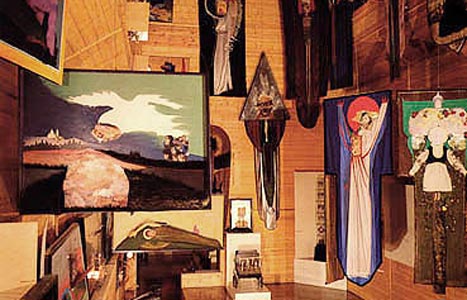 The exhibition was developed by Hasior himself whilst he lived in the town, and it is located in a former sanatorium on Jagiellonska street, a short stroll east of the centre. The slightly strange building is a perfect compliment to the art on display. The tall, pine interior is reminiscent of a church, or perhaps even the Great Hall of a medieval nobleman. This is heightened by the magnificent banners - for which Hasior was famed - that flow down from the ceiling.
Retro ambient music emanates from the speakers as you wander around, making you feel very much like you've entered an episode of Dr. Who. This then gives way to siren-like choral music, at times magical, at times unsettling, which is very much in keeping with the nature of Hasior's work. At some point on your visit you should encounter a fish with bird's wings soaring above an Amazonian jungle.
Hasior used all kinds of materials in his art, from old clocks, to magazine cuttings, to African textiles and childrens toys - really everything under the sun. The juxtaposition of different materials creates a fantastical effect. His world is very much like that of children's fiction, by turns enchanting and grotesque. And like children's tales, thoughtful messages can sometimes be communicated in a playful way.
Comments