Zakopane's Eccentric Godfather
The Fin-de-Siecle was a time when the old European order was losing it's grip, and it was not short of a few louche Counts. However, the character of Ladislas Zamoyski, who was neither a dissolute playboy nor a stiff reactionary, emerges as a rather wonderful eccentric by the day's standards.
An unstintingly generous and devoted patriot, Zamoyski was indifferent to the luxuries that were the norm amongst his peers, eating simple potatoes and cabbage, travelling fourth class on the train, and sleeping in quarters that were similar to a monk's cell. He was often spotted on the dusty highroads, helping old peasant ladies to carry their baskets home from the market, and today, with a new statue unveiled to mark the 150th anniversary of his birth, he has come back to his beloved Zakopane.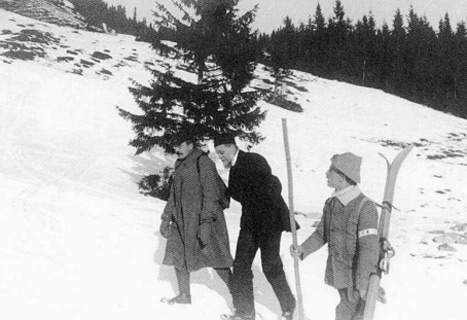 Ladislas Zamoyski belonged to a dynasty that had long been involved in Polish affairs. His family was that rare thing - a dynasty that consistently gave rise to remarkable figures, yet remarkable not for the vast numbers of wild boar and stags that were dispatched on their estates, but the unusual array of inspired characters that rose to the national cause. (Certainly, there must have been some bounders, cads and gargantuan debauchees along the way, but at present, such characters have eluded history books.)
The family arrived on the map with Jan Zamoyski (1542-1605), a Chancellor of Poland and sometime military commander of the Old Commonwealth. An ambitious and wily man, he was also a champion of democracy and religious tolerance. He was a distinguished scholar. At Zamosc he created the best (and still relatively unknown) example of the Renaissance ideal city - complete with a first class university, separate houses of worship for Armenians, Jews and Catholics, as well as modern sanitation and defensive works. Jan's descendant Andrzej, a comet of the Enlightenment, was the first Polish nobleman to end serfdom on his estates, and was a committed reformer of the floundering Commonwealth. Later, during the nineteenth century era of partition, the Zamoyskis' contributed several more politically active figures, who struggled to defend Poland's interests in the face of the conquering powers.
Ladislas's father, also named Ladislas (1803-68) was one of these patriots. Known as General Zamoyski, he was a hero of the doomed November Uprising of 1830. With a death sentence looming over his head, he took up the Polish cause in exile, becoming the right hand man of his uncle, Prince Adam Czartoryski, the 'uncrowned Polish King', who had once served as foreign minister to Tsar Alexander II. For the rest of his life, Zamoyski worked for Czartoryski, acting as his representative in London and organizing Polish legions to fight against the partitioning powers.
It was in this tradition of patriotism that the General's son, Ladislas, was raised. His father had left a legacy of self-sacrifice to the national cause, and his mother too (described by a contemporary as 'one of Poland's great ladies, a pillar of Catholicism and of the patriotic tradition,') was also to influence the ascetic role that he adopted.
Obliged to leave his Prussian property in 1885, where the Germans were jealous of his influence, Ladislas the younger eventually settled at Zakopane, where he took up vast estates. Launching campaigns to protect the region, whilst also ensuring modern connections with the outside world, such as the Chabowka-Zakopane railway line of 1899, he busied himself with a range of projects. His protege, Jozef Retinger (who would later parachute into Nazi Poland on a covert mission for Allied Intelligence) paints the following portrait:
'If ever there was a saint on earth Zamoyski was one. Ascetic to the point of sleeping on bare boards until his death at the age of sixty-six, he never spent an unnecessary penny on himself, at the same time distributing his whole enormous revenues anonymously - sometimes through me as an intermediary - for charitable ends. When Poland was reborn he offered his whole fortune to public institutions; hundreds of thousands of acres of land, factories, palaces, fabulous collections of art, a famed library, reserving for himself until he died just one room... Fanatically self-sacrificing, he never married, because he dedicated his life to the purpose he cared for; the service of his country and his religion.'
Now Retinger starts to drift into rather fantastical territory... 'One of the most handsome men of his generation,' he continues, 'he was so strong that I once saw him stop a carriage drawn by four horses by catching its wheel with his bare hands.'
He then finishes on the key note: 'Not intolerant of others, he preached by deeds and not by words.'
Although the Superman story about stopping a carriage with a single hand sounds a little far-fetched, Zamoyski was clearly a remarkable man. However, the Kornik Foundation, his main legacy, was to run aground. Zamoyski passed away in 1923, and after the Second World War the foundation was liquidated by the Communist government.
A neglected hero for many years, Zamoyski has since been reappraised in the wake of the political changes of 1989. The Tatra National Park, the majority of which was once under his aegis, has indeed never ceased to flourish. And in November 2003, a string of festivities and events were launched at Zakopane, marking the 150th anniversary of his birth. With a Highland orchestra playing in the background, and a troop of cavalry standing by, pennants flying, a new statue was unveiled with Zamoyski affectionately rendered in his signature, floppy-brimmed hat. The two men who unveiled the monument were the composer Henryk Gorecki and the now eighty-five year old Ryszard Kaczorowski, the last President of Poland, who had himself been compelled to live in London for fifty years with the government-in-exile. His presence marked a poignant bond with the lost world of pre-war Poland.
Zamoyski would, no doubt, have been saddened by some of the heavy-handed developments that have emerged in Zakopane. Yet today, Poland is free to forge its own path - new horizons have appeared, and the future is an unwritten book.
In Polish - Wladyslaw Zamoyski pr. 'Vwadeeswaf'
Comments
New and interesting development of the person ....Count Zamojski,....And the importance of his gift to Poland. The import was truly felt at the end of Ww11 when his purchase established a judicial basis for the new border. Mother was a Zamojski. The family of amb. Biddle are friends. Enjoy challenge to my generation to live up to Zamojski standard of service to The Polish people.
Reply
The quotes from Joseph Retinger are possibly erroneous. Where do they come from?
Reply
I have been following your articals on this site regularly and always find them entertaining and informative and at times very funny. Long may it continue.
Reply