Getting around Zakopane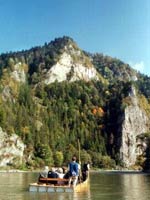 Above: Ride the river Left: Horse around Below: Or risk a run in with Jaws on the cablecar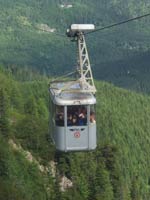 By taxi

Zakopane is a small town, so its best to try and walk around, as far as possible. If you do need to get a taxi, phone for one - its 30 percent cheaper than grabbing one from a taxi rank.
By car

You can hire a car to get around, but if you plan to spend most of your time in the town centre, think carefully. It is probably not a bad idea to have a car during the summer season, but in the winter, the roads are often blocked, and you'll need chains for your tyres to get anywhere.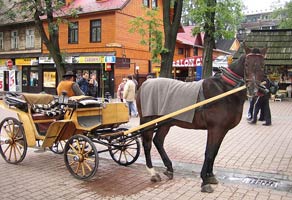 By public transport

Sleighs in the winter and carriages in the summer for the tourists make Zakopane picture postcard pretty, but for all practical purposes, go for the state bus service (PKS) or for the burgeoning number of small minibus operators who can ferry you to the popular setting-out points at the bottom of the The Tatra Mountains. Pick them up from Zakopane's Central Bus Station (Dworzec Autobusowy), ten minutes' walk from the town centre. By cable car and train

Most visitors at some stage try to take the cable car to Kasprowy. Book your ticket early, unless standing in a queue for a few hours is your idea of a holiday. The cable train to Gubalowka is not usually quite so oversubscribed, however. Take it to the top, then walk back down again - it only takes 20 minutes or so back to Zakopane's town centre.
Comments